"Alabama Studio Style" entry: machine-stitched camisole/cors...
Added Feb 23, 2010
by tessi
Peterborough, Ne...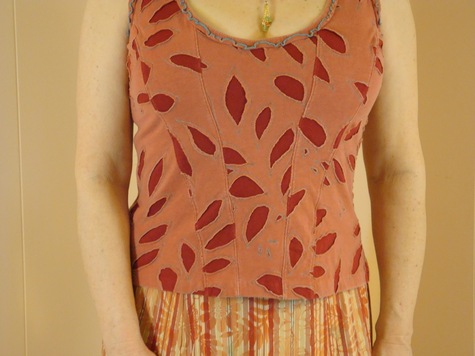 ShareThis
Description
When I got my copy of Alabama Stitch Book last Summer, I was immediately drawn to the camisole/corset pattern and the leaf stencil. I was going to be singing the role of Carmen in a voice recital and knew the camisole was just what I wanted as part of my outfit.
Because it took so long to find the color-ways I wanted to match with the skirt fabric I had already purchased, I never had a chance of completing the camisole by hand in time for the recital. However, I still coveted the idea. So, I decided to make the camisole using my sewing machine. I didn't even have time to paint the stencil designs, so used a felt-tip marker instead.
After experimenting with some different stitch designs, I settled on a "straight-stretch stitch" for the applique' process, which would allow me to retain most of the fabric's stretch. I used a lock-stitch at the end of each applique' and pulled the thread ends to the wrong side. I constructed the camisole – right sides together – with my overcast stretch stitch and then edge-stitched each corset seam on the right side of the garment. I used self-fabric binding for the neckline and armholes with lettuced edges, and finished the bottom of the top with a hand-stitched hem. I felt TOTALLY in the role of Bizet's Carmen, due in part to wearing the PERFECT top!
One of the most engaging aspects of the Chanin style of stitching is the handwork, which I still aspire to. However, I am submitting this project to encourage others who love the look but who might also have some serious time constraints as I did to use their sewing machines for a similar look.
I've already ordered "Alabama Studio Style" and can't wait for it to arrive!
Material Notes
Supplies: camisole pattern and leaf stencil from "Alabama Stitch Book" – 2 men's XXL long-sleeved 100% cotton tee shirts – One "Sharpie" brand felt-tipped permanent marker – Gutermann threads to match and contrast
Difficulty
Intermediate
Categories