Ahoy there skirty!
Added Nov 1, 2012
by laracrj
Cardiff, United ...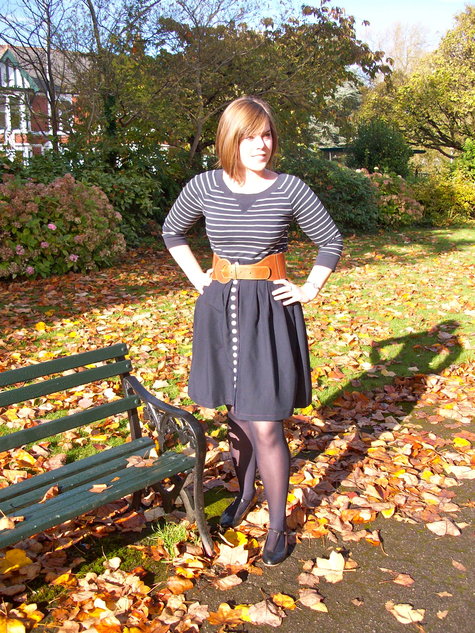 ShareThis
Description
So the tale begins with this top I'm wearing in the photos. I found it as an absolute bargain in Banana Republic and couldn't resist the comfy jersey and nautical colours. There was also a navy pleated skirt next to it, however this was full (and expensively) priced. So what could I do? Aha yes I could sew my own.
I already had about 3m of very wide navy gabardine in my stash (very cheaply bought off ebay – on the back of the fabric it has stamps all over it to say certified for US postmen?) so I headed straight for it and cut 2 rectangles the whole width of the fabric. I made the waistband (with belt loops and everything although the belt I'm wearing here is too wide to see them) and then started pleating the fabric. And there was a LOT of fabric. I managed to fit it all to the waistband and wore the skirt out to take a few photos. Got home, looked at the photos and realised I looked like I was wearing a beach ball the skirt was so puffy! So… I took it all apart – and this fabric frays an awful lot, so I'd overlocked it all – resulting in copious amounts of thread all over my carpet once I'd unpicked it. I took out about a foot of fabric at each side seam and re-pleated and am very pleased with the overall results now.
Decided on pink topstitching and whit buttons to complete the nautical theme, but also so I can wear it with other tops.
Hope you like!
Difficulty
Novice
Categories