Adam
Added Feb 9, 2009
By burdastyle
New York, New Yo...

Step 11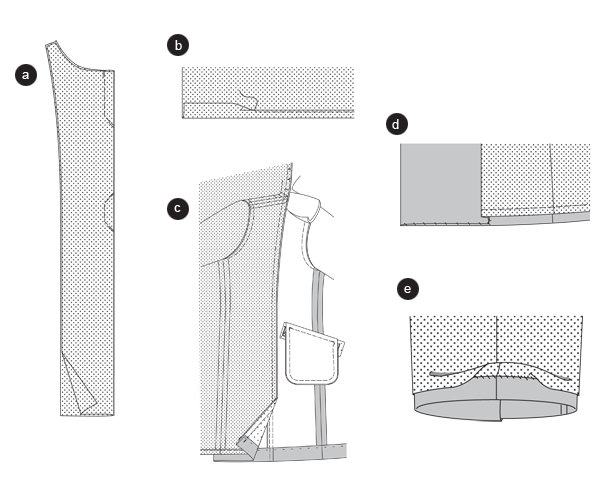 LINING
Back pleat
Fold the back piece lengthwise, right sides facing. Stitch the pleat as marked. Press the pleat to the side. Stitch the seams of the lining pieces; same seam numbers have to meet. Apply sleeve to the lining piece. Fold the allowances of the bottom sleeve edges inside and press (a).
Fold the allowances of the bottom lining edges, fold again and topstitch narrowly (b).
Position the lining on the facing, right sides facing. The bottom lining edge meets the facing _" (1.5 cm) above the hemline. The shoulder seams meet. Stitch the lining. Snip in the lining at the back neckline. Press the allowances inside the lining. Put the lining coat inside the fabric coat, wrong sides facing ©. Stitch the plackets on the hemline (d).
Slightly push the bottom edge of the sleeve lining and stitch on the sleeve hemline. Topstitch the front edges _" (1 cm) to the collar seam line (e).
Work BUTTON HOLES into the center left front piece. Work the top Button hole for the button on the inside of the coat, into the right center front piece. Work a button hole into the left collar edge, 1" (2.5 cm) from the edge.
Apply big BUTTONS on the marked (*) spots on the right and left center front piece. Close the buttons in the front of the coat. Fold the collar in half and mark the spot for the collar button. Apply a big button on the collar. Apply the button on the inside on the top marking on the placket.
Apply small BUTTONS on the marked spots (*) on the sleeve plackets enclosing the sleeve fabric.
0 Comments on Step 11
Patterns for this Project
Produced by BurdaStyle