A poppy to remember
Added Nov 3, 2011
Winnipeg, Canada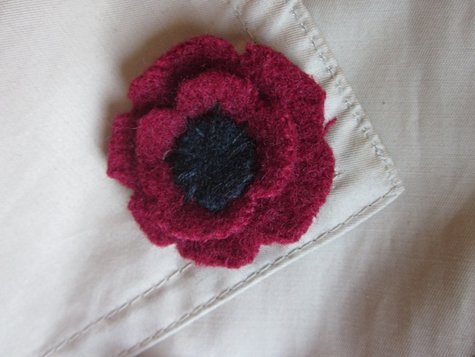 ShareThis
Description
It's that time of year and I thought yesterday that I really need to get a poppy. Then I remembered the dark red wool felt I had and thought I must be able to make one with it. The little plastic ones you get here in Canada come with a little curved straight pin and I always lose them within an hour or two. I thought I would secure it with a little maple leaf pin I got at a Canada Day event this year, but my final product proved far too thick, even the second try with only two layers. I wound up sewing a safety pin to the back and it works just fine.
I did a search and found this tutorial ( http://nheilke.com/blog/?p=1602 ) which gave a nice template and the idea to use two flower tiers, instead of just the one layer of petals the plastic poppies have. I tried just the larger petals and the flower centre for a second poppy, but I find that I prefer the one based on the tutorial. I have pictures of both here.
I thought after making it that I would like the poppy just a smidge bigger (1/2 to 1 cm wider in diameter) but my husband thinks it looks better the size it is now (which is about the size of a traditional plastic poppy anyways). Thinking more about it, he is probably right because it is meant for remembrance and not to be too showy.
Yea! no more lost poppies or stick pins in the, ahem… chest- ouch!
Material Notes
small scraps of dark red and black wool felt. Embroidery floss (3 strands) in dark red and black. safety pin
Difficulty
Novice
Categories
Credits
felt poppies for Remembrance Day