A Parade of Failures
Added May 13, 2011
by freakusbzzz
Canberra, Australia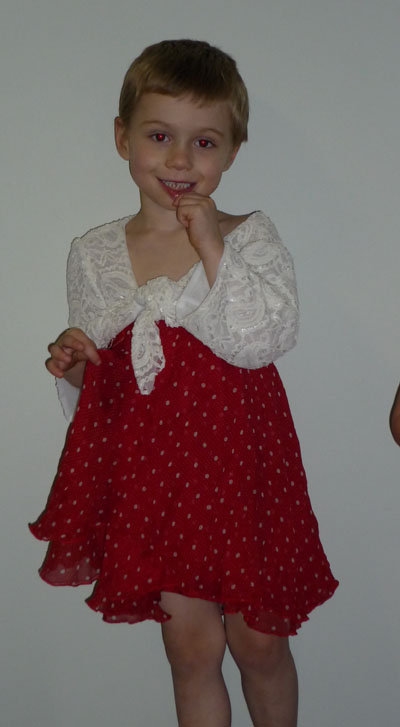 ShareThis
Description
So I've been sewing sewing sewing lately and have nothing to show for it.
It seams everything I make at the moment turns in to a big fat failure and I'm starting to get disheartened.
Tonight I contemplated my UFP box. There is more chance my kids will be well behaved tomorrow than I will ever finished the masses of UFP's stuffed in there.
Half were ditched and the most recent onces I've decided to give to my kids as dress up clothes.
At least they'll get some use out of them.
So here I have a small parade of my most recent failures.
Disaster #1 is beautifully modeled by Monty. He's wearing a silk red chiffon skirt with two layers and silk lining. Failed cause I didn't quite get the circle skirt thing quite right.. How can anyone stuff that up??
Disaster #2 Accompanying the skirt is a lace bolero lined with mesh jersey. I took all day making this for my Burdastyle meet up last night. I tried three times to fix it but gave u. It should have been a long top but it had too many pieces and each piece was lined. Failed because the outer lace was bagging in some places and my boobs looked very very low.
Disaster #3
Claudette is modelling my potatoe sack. A burda style pattern I even made a toile for.
Failed because it was very unflattering.
Disaster #4
Monty has on a stripey tsirt dress. I even made a toile for this too but the fabric wasn;'t as stretchy as the toile.
Failed because it was too tight. I've now cut the sleeves shorter and Monty has claimed it as a night sirt. I'm jealous cause it looks better on him that it would have on me.'
Disaster #5.
I copied ny favourite pair of pants before they carked it. Again, I did a toile and it was perfect. i didnt do the yoke and wasteband though.
Failed because both yoke, waistband looks awful, the pants seamed to have too much sag in the back legs and the zip was too stiff.
I LOVED this fabric and luckily Collette from Tessuti found some more from her warehouse for me. I couldnt be bothered unpicking.
Material Notes
Disaster 1. Berry Chffon
Disaster 2. Stretch lace
Disaster 3. Grey Bows cottom (super soft)
Disaster 4. Black white striped knit
Disaster 4. Texas Rose, olive/cocolatey pinwhale cord with embroidered roses. Slight stretch.
All from Tessuti's… what a waste or gorgeous fabrics!!
Difficulty
Intermediate
Categories
May 14, 2011, 12.16 PMby janul

May 13, 2011, 11.14 AMby hdk100