"A Nod to Vintage" Wallet
Added May 15, 2012
by fmsarawlove
What Happened To...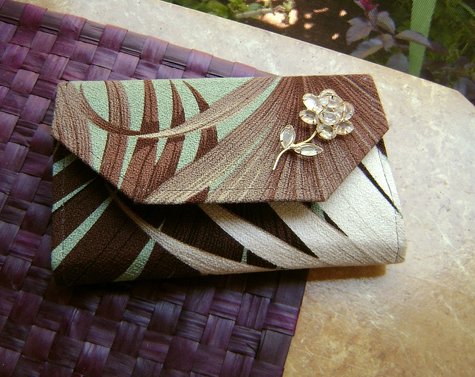 ShareThis
Description
So…on a whim I went to my local JCPenney the other day and just sort of wandered around aimlessly until I found myself in the wallet/handbag section. I was sorting through the sale bin, generally underwhelmed by the colors/selection when I found a wallet that I liked, but I wasn't in love with it. Still, I was all set to buy it when I suddenly thought "You know – I bet this wouldn't be hard to make."
And you know what? It really wasn't! I pulled up a picture of one of the Liz Claiborne wallet/clutches that caught my eye and drafted the pattern from that image. I added a few more compartments, edited a couple of things and boom – my new favorite accessory was born.
I absolutely LOVE all of the compartments. I have a place to put the usual things; cash, cards, and ID but I also stuck a coin purse in there plus a few extra compartments for coupons, my check book, reciepts, and sanitary wipes (which I always like to keep handy). I couldn't be happier with it! And I'm even more excited that I found a use for one of my favorite fabric finds – the pattern is just gorgeous!! It has a great, heavy texture and I love the vintage feel with the rich turquois color and palm leaves :)
Material Notes
The outter layer of the wallet is made from a heavyweight apholstry remnant bought at my absolute favorite fabric re-sale shop (i.e. She takes bolts that don't sell from bigger, chain stores and sells them at a discounted price…that's considered re-sale, right?).
The inside of the wallet is made from an old tablecloth (Apparently it used to cover a nightstand in my sister's old room back in the 80's) and the thread is from my mom's old sewing notions bin (probably also from the 80's…I'm shocked it held up so well considering it's probably older than I am.)
Stablized with buckram, interfacing, and lightweight cardboard. The closure was begrudgingly bought from JoAnn Fabrics a few years ago.
The crystal flower pin was bought yesterday at the antiques shop at the end of my street :) They always have the best jewelery/knick knacks <3
Difficulty
Novice
Categories
For

Garment Type
Jun 21, 2012, 02.40 AMby elenay

May 15, 2012, 08.36 PMby TyeH

1 Reply