A FEW DAYS OF SUMMER!
Added Apr 27, 2016
by Mirei71
***, Switzerland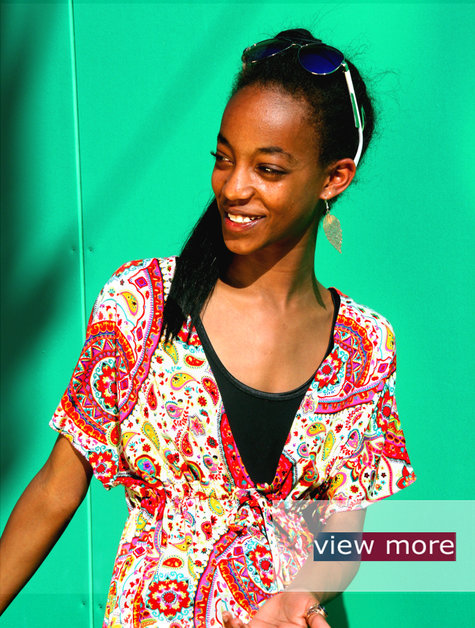 ShareThis
Description
Hello everybody and a warm welcome back to my blog! Of course, first of all, I have to tell you about my exam :-)
Last Saturday I went to sewing school for the exam. I had a mix of a feeling: nervous and confident at the same time, but something inside of me just kept telling me that I was gonna make it, that there wouldn´t be any major problems at all. That was very helpful and calmed me down. Even when the stitching needle broke at about the third stitch I kept calm. Replace the needle and go! No more mistakes, no time issue, no pieces sewed wrong way up or pleats where I don´t want them. My skirt developed smoothly and accurate. I am happy with the result and I left the building with a smile on my face :-) Now I have to wait until after school holidays for the result.
But let´s talk about the post now. A few days of summer. Yes, unfortunately only a few days, since winter dropped by once more… as for the temperatures. No wonder we catched the cold (sniff) but for a few days only we felt the warm sunbeams on our skin! It smelled like summer. How does summer smell in my village? For me? In the morning I can smell the grass and the water of the river getting warmer. I live just next to it. In the afternoon I smell the hot tar from the street and the lilac in my garden. In the evening it´s all about barbeque and jasmin and figs (right in front of my door)… just to mention a few scents I realise concious or unconcious. I really look forward to the warm season, just like a kid, also for being able to put out my summer wardrobe.
One piece out ot it is this summer top. I fell in love right the moment I saw this fabric on the Buttinette-newsletter. Must-have!! But with ordering fabric it´s always a risk, since you cannot feel it between your fingers and you can´t give the fabric back since it is already cut. This time I was very lucky though and the risk was worth it. A wonderful smooth fabric with a great fall, fine yersey, good quality and looking just amazing! I knew straight away that I would to a summer top with it. But which pattern? I remembered a cover of Burdastyle and that was it. One, two, three… the pattern was ready.
The sewing went as easy and quick as I found the pattern. The vision clear in front of me and the goal was quick achieved.
The shooting was just as uncomplicated as the making of the top. Everything went just perfect. The sun was up, the mood was right. My daughter made almost 500 pictures. She was so happy with the set! The model, although a beginner, did an excellent job and posed relaxed and confident. We just had a great afternoon together and at the end so many good pics that it took me ages to do a selection… We styled the top with a black tanktop underneath, so you can move around free, since necklace and armholes are very open, some jeans and red sneakers. You can use the top also for the beach, just wearing your bikini underneath. Or else, if you sew it in a unicolour like black, white or beige, you can wear a sparkling bra underneath and you´re ready to party. In fact I will put one of these on my to do list. ;-)
And that`s all I have to say about this pattern: I love it, easy going, quickly combined, comfortable and light. Let the summer in 1!!
Hugs from my sweing atelier to yours. Stay sew-focused and see you in my next post. Bye!!
Material Notes
Jersey
Difficulty
Novice
Categories