7 Genius Ways To Make Your Interior Decor Rock
Added Mar 6, 2014
by JaneClarkeUK
London, United K...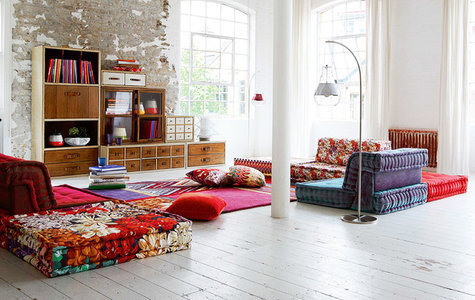 ShareThis
Description
There something extremely annoying in the idea about humongous refurbishment projects. "Rip it all down, take everything down and start all over again." All this chaos, clutter, dust and air glutted with the intoxicating adhesive and paint fumes pours a load of cold water on you even with the very thought of it. To avert potential interior dcor epic fails, complete disorder and confusion you could make small but effective changes around the household in order to transform it in your home. Tiny details matter, especially if you'd like to create something original and intriguing.
1. Avoid Formal Look
To turn your place into a home with the perfect interior dcor you should reach the happy medium between formal and homely style. No matter how modern you choose your interior to be you should add a few details in the form of pictures, art pieces, small accessories and similar. Thus you'll soften the cold, harsh, official look of your place.
2. Add Humour And Quotes
Humour is the best medicine and way to make visitors relax. Framed prints in the kitchen or hallways would do the trick. They'll not only add more interest to the living space but will, at the same time, show your personality. Replace the old doormat with one which says " Oh, it's you again…" or something similar. Choose a part of your wall and place quote stickers which will give inspiration and will be a way of expressing yourself.
3. Dining Room
People are social animals and logically you need to change your home for this purpose. Take a look at you dining room table and chairs. If they're too small and stiff you and your guests won't wouldn't be able to relax and have a good time. You could use back and sitting cushions to soften the uncomfortable chairs. Make sure the table is placed right and will allow your guest to pass by and move freely. Another factor you should take into account is its size. It shouldn't be too small. To add colour and a more interesting look you could place an elegant porcelain or glass vase with flowers.
4. Define Purpose
Obviously, every room of your house or apartment serves a definite purpose. What could be considered wrong as an approach is turning your bedroom into a cluttered office with a bed. There's nothing bad in a multiple purpose room. However, to achieve that you need to decorate smart. Choose a modular work desk and organize all your documents but leave a small space which will allow you to use it as a nightstand.
5. The Right TV Spot
The fact you can afford two or three large screen plasma TVs does not mean you have to place one in every room, which is a common mistake. Leave the bedroom and kitchen without one and let every one of the rooms serve its purpose. The bedroom would immediately turn into a place to relax after a busy day and the kitchen would be the quiet spot where you can have a tasty meal and socialize.
6. Be A Rebel
Add some off-beat decoration piece which will stick out and draw attention. It doesn't matter if it will have an odd form or it'll be tinted in a bright colour. As long as it's in the right place and fits the theme of the room it will bring additional style in the room.
7. Add More Light
This is one of the basic steps you need to go through in order to make your home a more inviting place. If the curtains are too heavy and thick they won't let enough natural light in. Thus your home will turn into a gloomy and dull place. You could switch to lighter fabrics, brighter patterns and shorter drapes or change them with blinds or shades.
Categories
Credits
Ideas and tips kindly provided by trusted professional painters
0 Comments