50s Ceiling Lights Shade Makeover
Added Feb 29, 2012
Stockholm, Sweden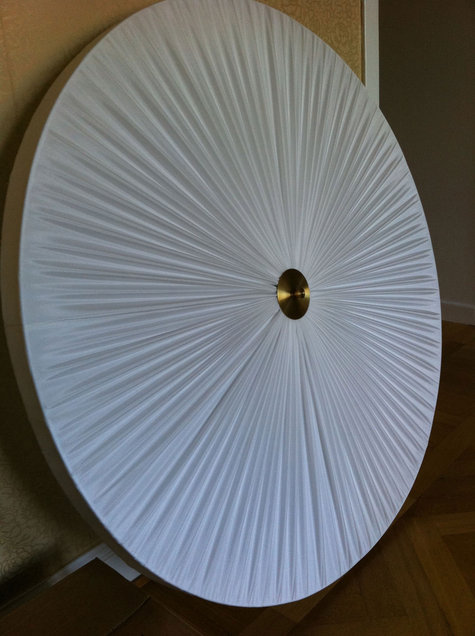 ShareThis
Description
This lamp is a christmas gift from an ex boyfriend – most definitely with a feel for vintage shopping. I remember recieving the wrapped gift and thinking how far the proportions of the box was with how close we were at the time ;)
The lamp shade measures 1.20m and was in a fairly good condition when I got it +10 years ago. As far as I could see, still in its original execution (fittings are still flawless). It has been in use frequently by me as well as being storaged for a couple of years. When moving flats last year it didn't really meet my standars. Fabrics had gone rusty from the wire frame and miscoloured by glue. So I decided to spruce it up.
Once I got started, I figured it was all doable from a technical and crafty point of view. I realised it would be a matter of time, patientece and endurance. To and from I have worked it for 12 months. Just unpicking 3 hand sewed seams from the +3.50m circular spoke took me weeks! As if the shade had a soul and offered a great resistance – "Undressing me? Not that easy!"
The lining is made out of an old satin bed sheet and is constructed as a flat piece of round with a border. The cover fabric is crep de chine, made as a huge tube which I closed in one end, fixed to the centre point of the wire frame, draped around its outer circular spoke, stretched and attached in a final seam. The upper inner "wheel" was dressed with a lace which was trimmed to fit. All old seam tape was removed and 3/4 circular spokes were re-wrapped. All seams are hand sewed. A bit of fabric glue went in there as well.
I am so pleased with the result. It's now installed and lightens up my room, looking absolutely stunning.
Difficulty
Intermediate
Categories
For