3D Trenchcoat
Added Dec 26, 2013
by cris orange
Vienna, Austria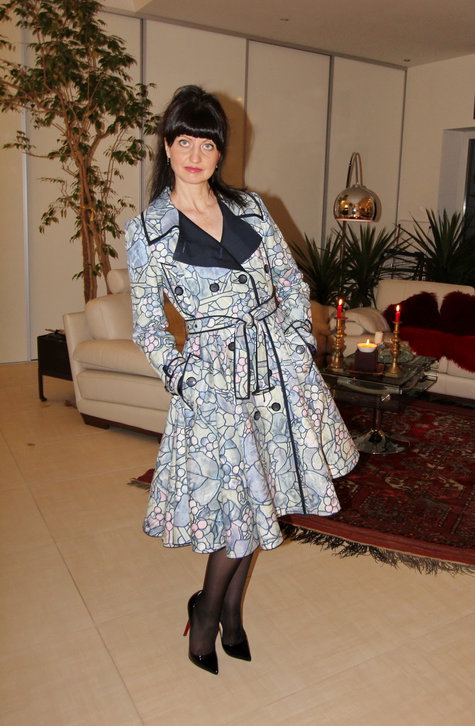 ShareThis
Description
In fact I can´t draw my own patterns, but what I surely can is complicating a pattern by adding many details.
The Vogue Pattern V8866 catched my eyes some times ago and as I encountered this fabric, it was one of those instantaneous inspirations. The fabric is a wonderful cotton-silk blend, a little bit stiff, with a beautiful print and a jacquard structure – altogether a light 3D effect, as I find.
I extended the pattern so that it became a trenchcoat instead of a jacket.
Originally there were 4 full circles in the back and 2 in the front (one right and one left).
But in the long version that would be enormously much fabric, so I reduced it to 2 circles in the back and 2 half circles in the front – even this way I needed 7m fabric (and I didn´t have more).
Then the details came along: the facing schould be made of a contrast fabric an it should be visible on all edges. For this I had to modify the pattern, so that the facing was a little bigger and the fashion fabric a little smaller.
I also wanted real pockets – the challenge was that they didn´t sit in a seam, but middle in the fabric. I searched long time for a solution and finally found it in the Burda download pattern 501E (on the german burdastyle).
The belt should have buckle and eyelets, as well as the sleeve belts.
Between facing and lining I put a piping in contrasting colour.
In all the corner I used the mitered corner technique.
And the many buttons needed the dreaded buttonholes.
The hem is turned over with the facing fabric, which is visible 5mm on the outside – the 12m hem appeared to me as a never ending seam.
The last challenge were the eyelets – I never did this before.
I bought some on ebay because they had exactly the same colour as the buckles.
They also had the proper tools attached.
But when the eyelets arrived, it turned out that the tools didn´t match the eyelets!
So I had to buy other eyelets from Prym, the tools were ok, but they neither matched the ebay eyelets perfectly. At this point – after 3 weeks of work – my pacience was at the limit, so I fastened the eyelets as well as I could.
After so much work I was really happy to have finished this coat! It was like a marathon.
But I must confess that I am very pleased with the result, it is exactly my style, a crazy trenchcoat :-)
Unfortunately it is already too cold to wear it, so it has to wait until springtime to see the street :-)
Material Notes
Fashion Fabric: 75% Cotton, 25% Silk / Facing: Silk with a litlte bit Polyester / Lining: Bemberg / 16 Buttons / 3 Buckles / Piping / Cotton Thread
Difficulty
Advanced
Categories
1 Reply

1 Reply

Dec 31, 2013, 12.18 AMby peachb

1 Reply

1 Reply

1 Reply

1 Reply

1 Reply

Dec 28, 2013, 03.03 AMby rita61

1 Reply

Dec 27, 2013, 04.05 PMby zoomba

1 Reply

1 Reply

3 Replies

1 Reply

1 Reply

Dec 26, 2013, 11.01 PMby SassyT

1 Reply

1 Reply

1 Reply

Dec 26, 2013, 09.33 PMby iryc

1 Reply

Dec 26, 2013, 08.58 PMby kisses

1 Reply

Dec 26, 2013, 08.33 PMby schnui

1 Reply

1 Reply