1960s Dress: Vintage Butterick 4996
Added Oct 1, 2012
by sertyan
Kota Kinabalu, M...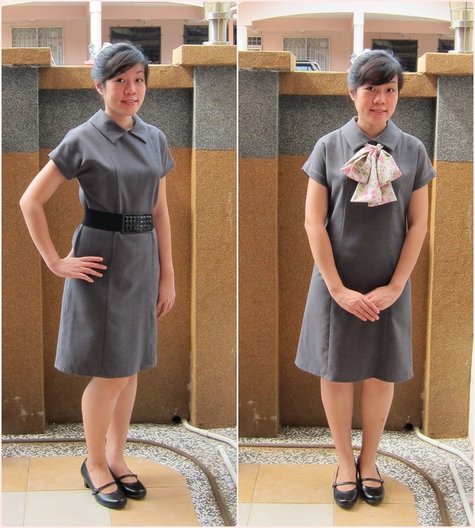 ShareThis
Description
Vintage Butterick 4996 is a 1960s dress with really cute collars. It also has interesting kimono sleeves which are not separate pieces from the dress but part of the side panels. To strengthen the curvy part around the armscyes, the instructions call for basting bias tape around the stitching line of the armscye curve.
This pattern is fairly easy to sew as it has only 4 main pattern pieces. The princess seams are more flattering for a lightly endowed person like me, I would prefer a dress with princess seams anyday compared to one with bust darts. I seem to have more issues with patterns requiring bust darts, such as pointy darts (which happens to me ocassionally and I can't get rid of, so annoying!) and excess fabric.
I omitted the middle pockets and added a skirt vent at the back of the skirt to allow for more leg movement. Other than that, the NEW SIZING 31.5 bust size was perfect for my top part of the body but I tapered out to smaller side seams (1.5cm to 0.8cm) from the waist downwards to accomodate wider hips. Other than that, I have no issues with this pattern.
I didn't have to line the dress as I used really sturdy nice polyester viscose blend double yarn fabric from Japan (USD5/yard) which was really a dream to sew. Total cost of this dress is approximately RM25/USD8 and commanded less than 1.5 yards of a 60 inch width fabric. Pattern was gifted (thank you!). I wore a simple petticoat skirt inside so the skirt part would hang better as the dress has no lining.
I am pretty pleased with this pattern as now I have a basic grey dress to add to my work wardrobe. My husband wouldn't recommend me to wear it to work with the bow tie style as he thought it looks too much like an airline stewardess or sales promoter uniform; I don't mind it too much as I reckon the look is rather 'Mad Men'. The flowery bow is from a sash of this dress I made a while ago.
For more pictures, visit
http://sertyan.blogspot.com/2012/10/1960s-shift-dress-vintage-butterick-4996.html
Difficulty
Novice
Categories