1947 trellis jersey
Added Apr 16, 2011
London, United K...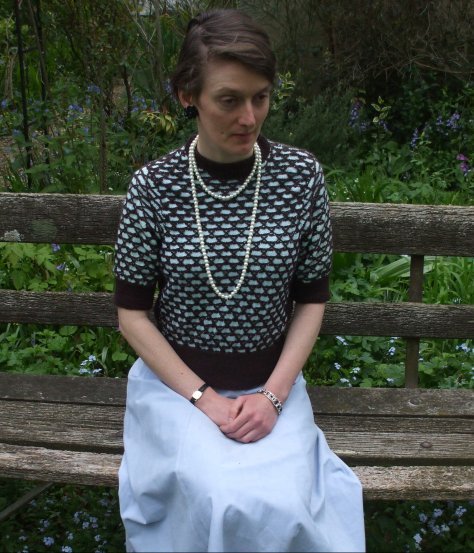 ShareThis
Description
Here is one I made earlier…
These vintage short-sleeved jumpers can't be worn in hot sunny weather but are unsuitable for winter wear; so the English spring (apple blossom!) is a perfect time to get them out. I actually made this one a couple of years ago, but it has just re-emerged from storage with the rest of my 'non-winter' clothes, so it seemed a good time to finally get it photographed.
People who see it tend to assume that the trellis pattern is simply embroidered onto the finished garment; it isn't! The diagonal crossed stitches of the dark purl rows are carried over four intervening stocking-stitch rows of the pale ground colour and then crossed over each other using a cable needle (or, in my case, a handy double-pointed sock needle) when knitting in the next dark row – the ten-stitch pattern is then offset for the next pale stripe, producing intersecting diagonal lines across the whole jumper. It's a very clever design, though you do have to be careful with the tension as the long stitches tend to 'draw up'.
I made absolutely sure that my tension complied with the specified 10 stitches to 1.25 inches, which is why I was so frustrated to discover after months of work that the final garment was distinctly too narrow. In fact given a width of 116 stitches I had obtained precisely the mathematical result that may be calculated from the above tension – a width of 14.5 inches across both front and back, or in other words a bust measurement of 29" versus the 33" promised by the pattern.
I can only assume that real wool (I was using acrylic) would have stretched considerably when pressed damp under a hot iron as directed. Unfortunately mine didn't, so I had to resort to emergency measures, as advised by the columnist 'Finella' in 1936: namely knitting up an additional strip to insert up between the front and back pieces and under the arms in order to make them wide enough. I was handicapped by the practical impossibility of knitting this particular pattern in a narrow strip (you always get an ugly half-join at the ends, and this would have been nothing but ends!) and by the fact that I had almost no blue-green wool left from any of the assorted oddments I had been using; I had managed to buy some more brown, with considerable difficulty, when I ran out (ending up by having to 'split' double-knitting weight to match the 4-ply wool), but hoping to match that odd pale colour was quite out of the question.
Eventually I did plain stripes for the armhole inserts (just visible under the arms in the close-up) without the diagonal crossing stitches, and then, when I ran out of blue-green, simply did dark brown strips for the sides of the jumper with purl ridges where the stripes should have been. Thanks to the dark brown ribbing at bands and welt, the result looks plausible as part of the original design – I went a little over the top on the width of my extensions in my panic, with the result that the jumper as it now stands is actually rather looser than the style intended. It still doesn't really fit properly, since I had no way of widening the body at the armholes and across the shoulders, but fortunately the attention-grabbing pattern tends to deflect attention away from that.
The jumper features an opening across the left neck and shoulder which is fastened in wear by press-studs.
Material Notes
Knitted in 4-ply acrylic, using about four assorted different-hued balls of green-blue and three different balls of dark brown (one of which was actually a fine double-knitting yarn with one of the three strands wound off, i.e. 2/3 width. Doing this was an unbelievably tedious process, but that's what happens when you use vintage patterns and scrap yarn, and have to estimate quantities… and get it wrong!) Thanks to the pattern the yarn changes are barely detectable even in close-up (it's four 'stripes' of each non-matching green/blue wool) although you certainly wouldn't get away with that sort of thing in a plain block of colour – if you look at the side inserts in the rear view, you can just make out two different hues of brown.
Difficulty
Advanced
Categories
Credits
Woman's Weekly

A Jersey in Trellis Pattern, 1947