1840s feminine nightcap
Added Feb 19, 2013
London, United K...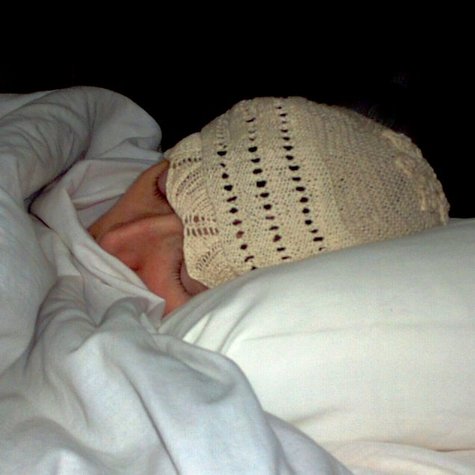 ShareThis
Description
It has been pretty cold in Britain (by the standards of what we are used to) over this last winter, and as my bedroom is unheated I like plenty of warm woollen blankets on my bed – and bedsocks on my feet. I've also been known to wear a silk or rayon scarf over my pyjamas in bed, to plug the chilly gap where my neck disappears under the bedclothes!
However, when I found myself constantly pulling my head down tortoise-fashion under the blankets and then being forced up to grab breaths of air for fear of suffocation, it dawned on me that perhaps my hair wasn't adequate insulation for the remaining parts of me after all, and I needed to take a tip or two from the Victorians, who knew all about unheated bed-chambers. What I needed was an oldfashioned nightcap.
So I found an oldfashioned nightcap pattern – Franklin Habit's version of a "gentleman's nightcap" of 1840. (Ladies' nightcaps appear to have been made of trimmed fabric, mob-cap style, rather than knitted.) Others who had tried the pattern warned that as written it came out extremely large, so I calculated the number of pattern repeats that I reckoned would add up to a hat of 21" circumference and started knitting round the 'stretchy lace border' using some scraps of crochet cotton and a set of double-pointed needles in true Victorian fashion!
I originally had every intention of making the nightcap up as for the original, with its long tail and tasselled top. However, once I started knitting my way up the top it became increasingly apparent that the cap was distinctly on the loose side, and when I tested it the additional weight of the peak simply pulled it sideway off my head. I was forced to go for a quick redesign, calculating the number of decreases that would be required to knit a flat top straight across and produced a more 'feminine' variant. This did have the advantage of being a very great deal quicker, since the number of stitches decreased far more dramatically on each row….
In place of the tassel, I made a Tahiti blossom crochet ornament from a free pattern on the Web, and sewed this down onto the plain top of the resulting hat. I had run out of the original crochet cotton scraps I had been using after completing the patterned bands up the side of the nightcap design, and had switched to a darker colour – fortunately I had just enough of the bright cream cotton to make up the Tahiti blossom in as a nice contrast touch.
The hat still showed a distinct tendency to be loose, so I ended up sewing a strip of elastic around the lowest pattern band. I've been wearing it almost constantly ever since; it does tend to come off once I'm asleep, but it works wonders in allowing me to get warm enough to go to sleep in the first place. The Victorians knew what they were doing. Perhaps I should run myself up a set of mediaeval bed-curtains too!
Material Notes
Crochet cotton in cream and oatmeal colours
Difficulty
Intermediate
Categories
Credits
Knitty.com

6ichtusfish