1 Pattern 7 Bloggers Dress
Added Jun 2, 2011
by kat21
Gold Coast , Aus...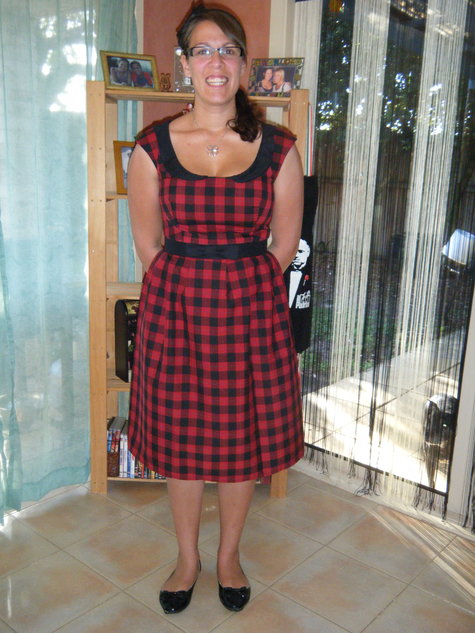 ShareThis
Description
I can't believe the reveal date is already here! When we set the date of June 1st it seemed so far away but it has come around so quickly. So quickly in fact that I was still sewing my dress this morning. Poor time management on my part lead to me spending my day off today finishing my dress but it was a very nice relaxing way to spend the day. So the moment you have all been waiting for……my dress!!!
I am really happy with how this dress turned out. I was lucky enough to not encounter any of the fit issues that the other girls encountered. My muslin was a little tight but I let the seams out a little and my final dress material has a bit of stretch to it so that issues was dealt with easily. I didn't encounter any issues at the waist as the other girls did either which was lucky. I am also super glad that I took so much care to make the inside of the dress look neat. It is the best garment internally I have ever made!!!
Another great thing about this dress is it cost me nothing to make. The black material, bias binding and zipper all came from within my stash. The main material was gifted to me by my mum from her stash which saved me a lot of searching and money. Even the pattern cost me nothing! My dad works at company that delivers magazines and flyers to newsagents and other places and he is allowed to bring home magazines every now and then. About 1 week before this challenge was proposed he came home with a copy of Burdastyle for me and it just so happened to be the one this pattern was in. Lucky hey! So this dress cost me a total of $0. Whats not to love about that!!!
I had so much fun with this challenge and I am so glad I was asked to take part. I think there should be more challenges like this in the blog world because they take us out of our comfort zone and push us to be a little bit more creative and take a bit more pride in what we make. I know sometimes I can just want to get something made as quick as possible so I cut corners and end up with an inferior garment. This challenge made me slow down and take the time to enjoy the process and appreciate the garment I was making. It has also reignited my sewing mojo which I was struggling to find after our trip to Europe. So thank you to all the other girls for making this challenge possible and for letting me be a part of it. It was great fun!!!
Don't forget to check out the other girls dresses on their blogs too!
Sam: http://hand-quilter.blogspot.com/
Rachel: http://mymessings.blogspot.com/
Marie: http://asewingodyssey.blogspot.com/
Reana Louise: http://curvespatternsandpins.blogspot.com/
Jen: http://the-paperdoll.blogspot.com/
Amy: http://sewingthroughthemotions.blogspot.com/
Difficulty
Intermediate
Categories