02/2012 Kimono Sleeve Jacket
Added Feb 12, 2012
Munich, Germany

Step 2 Cutting out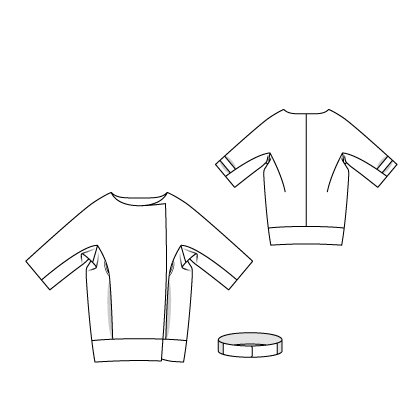 Main fabric:
1 front with integrated sleeve, cut 2x
front facing, cut 2x
2 back with integrated side piece and sleeve, cut 2x
3 lower sleeve piece, cut 2x
4 front hem band, cut 4x
5 back hem band, cut on a fold 2x
6 pocket piece, cut 2x
7 back facing, cut on a fold 1x
8 sleeve tab, cut 2x
Lining:
6 pocket piece, cut 2x
Vilene Bias Tape/ stay tape: Iron to wrong side of neck edges.
Belt, Suede leather:
2 right front belt pieces, 15 cm (6 ins) long, and 2 left front belt pieces, 18 cm (7 ins) long, all 5.5 cm (21/4 ins) wide.
Cut one right and one left front belt piece each with 1 cm (3/8 in) wide seam allowances. Cut the other two belt pieces without seam allowances. Interface the belt pieces with seam allowances.
0 Comments on Step 2
Patterns for this Project