02/2011 Cropped jacket with buttons
Added Feb 14, 2011
Munich, Germany

Step 2 Cutting out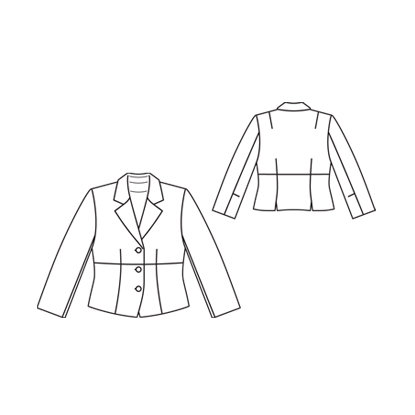 Pattern piece 1 – Upper front piece, cut x2
Pattern piece 2 – Lower center front piece, cut x2
Pattern piece 3 – Lower side front piece, cut x2
Pattern piece 4 – Upper back piece, cut on fold x1
Pattern piece 5 – Lower center beck piece, cut on fold x1
Pattern piece 6 – Lower side back piece, cut x2
Pattern piece 7 – Top sleeve, cut x2
Pattern piece 8 – Under sleeve, cut x2
Pattern piece 9 – Collar piece, cut on fold x2
Pattern piece 10 – Collar band, cut on fold x2
Pattern piece 11 – Back facing, cut on fold x1
Also trace and cut the front facing using the lines on the pattern pieces 1 and 2, cut x2 of each.
Interfacing: Cut interfacing for and iron onto wrong side of collar pieces and all facing pieces.
Iron Vilene Bias Tape/stay tape to edges of armholes (wrong fabric side) with the lines of chain stitching lying on the marked seam lines.
0 Comments on Step 2
Patterns for this Project