Unmentionables - Chemise and Corset
#2
Added Nov 18, 2010
By alasse
Munich, Germany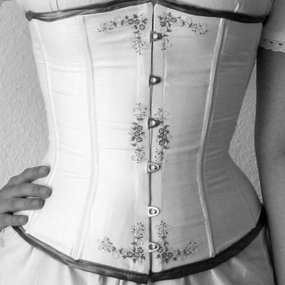 Rating

Buy or download pattern to rate

Difficulty

Advanced

Size

Bust: 87cm, Underbust: 77cm, Waist: 65cm, Hip: 90cm See Sizing Chart

Type

Download
Free




Additional Pattern(s) Needed
Notes
Corset pattern for a victorian semi-bust corset.
Should only be used as a guideline, instructions include drafting the pattern (they can be found from step 7 onwards)
Please read the instructions before you start! This is not particularly easy.
Let me know if there is anything one can't understand. I will be very glad to improve my instructions based on your suggestions.
Recommended Materials
for example satin, cotton or jacquard (outer fabric) and strong fabrics like denim (lining)
Amount of Fabrics
50cm of both fabrics
Categories
For

Garment Type

Style

Material
What's New

By Issue

Fabric Type

Women

Men

Kids