Summer Dress SIZES 18-28 NZ
Added Jun 10, 2011
By lila-1
Auckland, New Ze...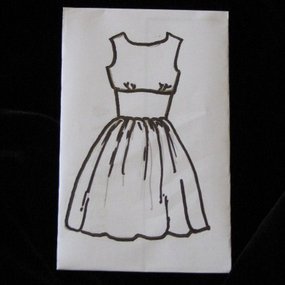 Rating

Buy or download pattern to rate

Difficulty

Intermediate

Size

46-56 See Sizing Chart

Type

Download
Notes
This pattern is in sizes 18-28 NZ (or UK), 14-24 US.
I will not be putting up this pattern in smaller sizes.
This a pattern for a 50's style dress. I'm sorry, It wont be till sometime in July for me to put up a picture of the finished dress, just dont have the time right now.
The skirt pattern is more like an instruction sheet – sticking all the bits of paper together so I could scan them individually got old. It's pretty easy to work out using the guide btw.
INSTRUCTIONS are under the "print at Copy Shop' option at printing. It is in A4 size though. The last page of the instructions under "The Skirt" makes references like 'below' and 'to the left' – this refers to the last page on the pattern, the skirt guide. I meant to cut out and stick the skirt instructions onto that page before scanning, but had a printer error, sorry.
USE THE INSTRUCTIONS AND MAKE A MUSLIN FIRST! this is my first expedition into drafting any size pattern other than my own size, so it might need some rejigging.
I made this pattern myself and I am allowing you to use for free on www.burdastyle.com. By downloading and printing this pattern, you agree to use this pattern only for your own personal use, and not for sale or any other commercial use.
Please post your finished creations, I would love to see how it works out :)
Categories
Finished Projects
What's New

By Issue

Fabric Type

Women

Men

Kids