2 cosmetic / toiletry bags
Added Apr 28, 2013
By RedDynamica
Cape Town, South...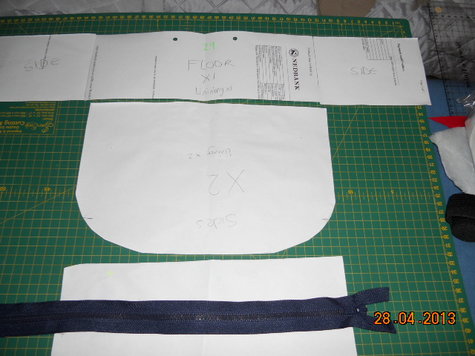 Rating

Buy or download pattern to rate

Difficulty

Novice

Size

N/A See Sizing Chart

Type

Download
Notes
Cosmetic bag
I used an A4 size paper, fold double, cut one corner round: this is your front/back panels, cut out x2 and lining x2. 18.5cm high x 30cm long
the floor and sides is 10.5cm x 59cm (cut x1 and lining x1) the Top is 29.5 × 10.5 cm (cut x1 and lining x1) this piece will be cut in half in the length, and the zip will go in the middle.
You need a 34cm zip.
The lining is the same is the outer fabric, without the zip.
First attach the zip to the to top pieces, by folding under 1cm.
Attach the other Long piece (floor) the the top, right sides together. (1 cm seam allowance is fine).
Open up the zip. and attach the front and back by folding your front/back in the middle and the floor in the middle, this is where is start to pin. the bottom part of the front/back middle, and work out from there.
(attach elastic to lining if you wish before you attach it to the floor piece. I used about 50cm of elastic on each side, just making loops and pinning it. I have 6-7 loops)
Insert the lining in the bag, I pinned the the lining the the opening where the zip is, also turning 1cm under, and I machine stitched it. You are welcome to handstitch.
Categories
What's New

By Issue

Fabric Type

Women

Men

Kids