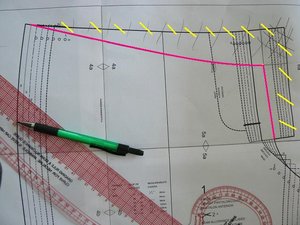 Pants with my name on them!
This week I've made up a muslin for the 'Nichola pants from an old sheet. I made a simple alteration to the front piece of the pattern by scooping the waistline to fit under my bump. Since I'm in need of comfortable clothing at the moment I thought that instead of adding the waistband with buttons and zip that I'd give the pants an elasticated waist. What do you think? I know that this would alter the look of the pants but this doesn't concern me since I'm not really in need of tailored pants. My bump still has more growing time I so need pants that will fit me until the end of the pregnancy and in my eyes elastic is the way to go. I'm thinking of adding extra length to the waist which I can fold over to create a channel for the elastic and also need to add some length to the rise at the back, when I sit down you get a nice (or not so nice) view of my bottom! So an inch or so will be added to my back pattern piece. I'm also going to leave out the pocket, I'm not sure it would sit right since there will be some slight gathering at the waist but I am considering adding some side pockets like those in Nayantara's how-to, I LOVE pockets I can sink my hands into. The last alteration I need to do is to shorten the legs, in the picture above I have already shortened them by 15cm and they're still too long which just goes to show how small I am! I want these pants to be as casual and as comfortable as possible to wear which I think they will be and they are also very easy to make (without having to add the back pocket and waistband) so I should be able to whip up a few pairs in no time.
Now, onto the Lydia sew along. I procrastinated all of last week too and didn't get around to making mine; instead I spent time making Christmas decorations for our tree and postcards for a swap I organized. Now that I'm making the Nichola pants I think I will make the Lydia top with short sleeves to wear with them instead of making the dress version. I'm loving Julietta's take on the pattern and Mellu's cute version with the puff sleeves which she made with the help of Zahra's how-to. Check out the thread in the forum for more details and see more finished Lydia's in the creations section.
Since it's the holiday season and everyone is busy busy busy I thought we would keep the next sew along nice and simple and make the Layla apron and matching mittens. Maybe you'd like to make it for yourself to wear on Christmas Day whilst cooking lunch or dinner or maybe you know someone it would make the perfect gift for, handmade gifts are the best I think. Just remember to use a non-flammable batting/wadding when making the mittens. If you want to take part please head on over to the new thread in the forum and let us know who you are making Layla for, what fabrics you plan to use and any alterations you may make.