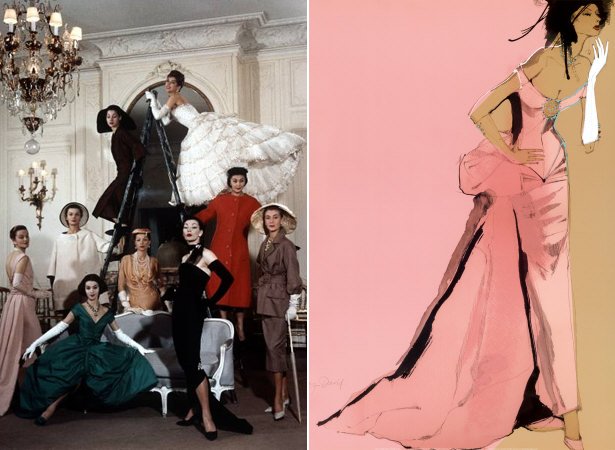 ShareThis
Last autumn I took an online class in hand stitches (after several years, I finally decided to perk up my rusty sewing skills, and it was the only class available that month) and after the first session I knew that all I wanted to do was learn couture sewing. Fortunately, there are now many resources available for anyone who wants to master this amazing and exquisite craft. Couture sewing is not cheap, neither it is fast, but the results are worth it! Even if you use only one technique in a garment, such as a balanced dart for example, you will be surprised how it elevates your garment from mass production. And you know what? There is a remarkable number of home seamstresses using couture techniques in their sewing.
Take this quiz to find out whether you are an Haute Couture aficionado as well:
-You know the difference between even and uneven basting stitch
-You always have handy a spool of Japanese silk basting thread and at least one pack of the finest hand sewing needles
-You have more than one type of many sewing tools and can justify why you need each of them
-You know the difference between interlining and interfacing
-You have yards of silk organza in your fabric stash
-You know at least four different ways to handle darts
-Your seam allowances are often humongous
-Sewing hand-picked zipper or hand-bound buttonholes is a breeze for you
-You know what beeswax is used for
-Constructing a Chanel-inspired couture jacket is/was on your to-do list…and you can name at least five characteristic features of a couture Chanel jacket
-Every time you sew with loosely woven fabric you feel the urge to quilt the lining
-You often spend more time pressing than sewing
-You shudder every time you hear the word 'fusible'
-You have spent more money on sewing courses than on ready-to-wear garments
-Your family is versed in most couture and tailoring techniques you use and can explain them to a stranger
-You wonder why this list is so short and are able to add at least twice as many items to it
Did you say yes to most of the points on this list?
Then please leave your blog address in the comments section – I am sure I can learn something from you!
You didn't understand most of the questions but are nevertheless intrigued?
Stay tuned to my follow-up posts – I will be blogging here about resources, classes and workshops, slow sewing, best couture-inspired blogs and lots of other fascinating topics.
~Marina
Marina von Koenig blogs at Frabjous Couture about her daily discoveries in
Haute Couture. She takes every opportunity to learn more about creation of
exclusive one-of-a-kind clothing and loves sharing it on her blog. While working
on couture-inspired garments, she now features a tutorial on creating custom silk
neckties for men. Check it out for a perfect Father's Day gift!
Photo courtesy of My Vintage Vogue, early 20th century couture sketch.