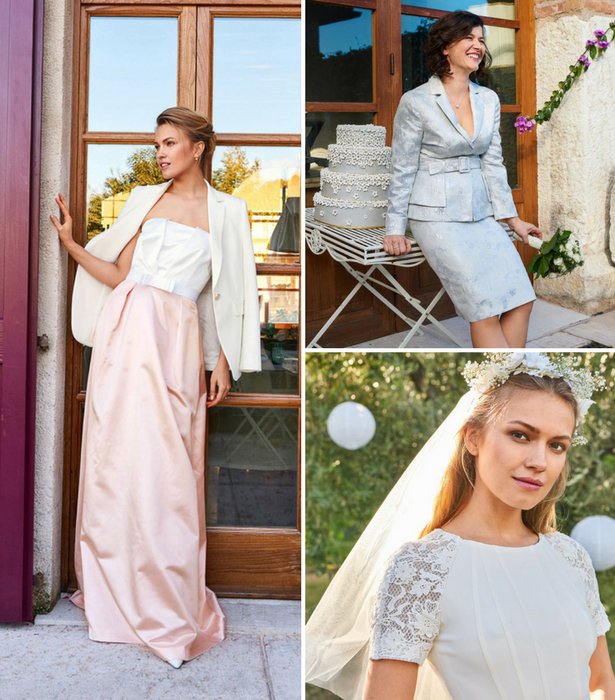 ShareThis
Classic, modern or perhaps a fairy tale wedding…These breathtaking styles from the 03/2018 issue of BurdaStyle magazine for brides and guests make the grand day even more unforgettable.

This is a look that is impeccable whether worn for the festivities, leisure or the office. The tapered and pleated trousers include a waistband that folds over, single welt pockets in back and an extra-long trouser leg so that there is also the option to roll them.



So cool! The sophisticated design of the bodice shaped by the asymmetric front and the mini peplum cuts an enviable waistline. Pair it with "Marlene" or slim-fit trousers for a modern alternative to a dress.



Do you dream of a romantic fairy tale wedding…? This lace dress is your answer. Delicate flounces decorate the neckline and drape the shoulders in place of sleeves, while the waistline is drawn beautifully and simply in with a wide petersham.



A graceful topper that also protects against a cool breeze. The stole is sewn in a delicate pink duchesse that captures the elegance of the gown beautifully.



A floor sweeping dress with a bow detail and a slight empire waistline is an enchantingly timeless look. Pronounced pleats at the corsage bodice add a radiant texture in white. The soft pink skirt panel is full of volume that is shaped with pleats at the sides.



This blazer is sure to be a fresh addition to your wardrobe. Patch pockets and a belt with a covered buckle has a look of the safari style jacket, though the narrow lapels and the shimmering jacquard elevate it to absolutely glamorous.



Have you recognized this one? We cropped and added a fun touch by sewing this bridal dress from in a printed silk satin. A great dress for warm weather – for parties and even for breezing into the office.



A couture style with the look of high fashion. The collarless jacket with the voluminous sleeves tucked into an inverted pleat design has the look of a cape. A tying belt draws the waistline in to hug the figure.



This elegant bouclé coat with raglan sleeves and streamlined seam pockets is perfect for cooler spring days. The rough metal zipper is sewn exposed in front for a trendy style shake-up.



This skirt pairs beautifully with the formal jacket as a two-piece suit, though is a great choice solo, as well. The sharp panels for this narrow skirt shape an envy-inducing figure and a walking slit in back ensures optimal freedom to move around. Sew it in a soft jacquard for a chic bridal suit ensemble.



Worn together with the blazer, this narrow skirt with the walking slit in back is a modern two-piece. For a relaxed and everyday look, pair it with a plain shirt.



A look that simply works for every shape. A dress designed to hug the shape that also flows freely at the hem – and can be a great choice for a bride getting married at the city clerk's office.



At first glance, the look is a refined classic. A second examination highlights absolute sophistication: Rather than lengthwise darts, graphic and pointed panel seams create shape, and the bateau neckline is accentuated with a mini V-slit. Those who prefer a striking option – and one that accents the figure even more – can choose to cut the side panels in a coordinating contrast color.



Pleats at the hem form kick pleats that spring from the full-length fit, raglan sleeves cover the shoulders with a delicate lace and a perfectly shaped waistline panel… Wow! A curvy option perfect for modern brides.


Wedding day coming up? Get ALL these patterns from the collection in the discounted bundle here!