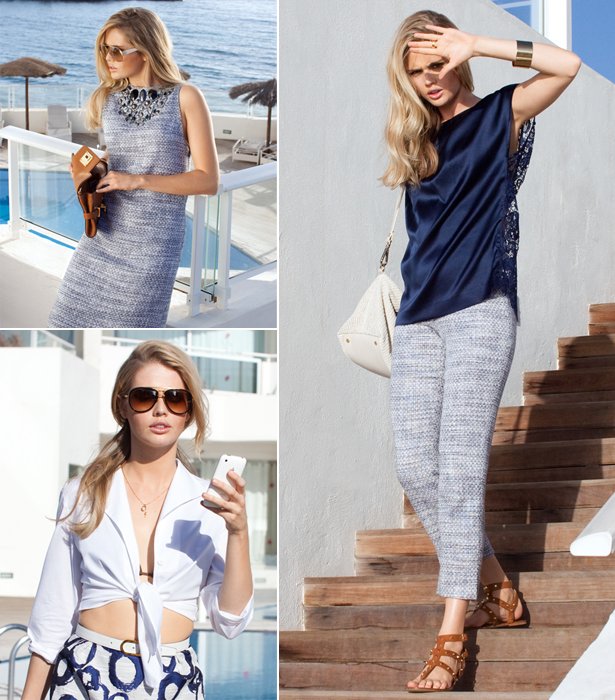 ShareThis
Nothing is better than getting away on a yacht! This week we bring you a new pattern collection from burda style magazine's April 2013 issue inspired by yachting dress. These designs are easy, breezy, and evoke an effortlessly chic style.
This is a lovely little Lace Dress made out of lace. It has attached ruffles at the hem and sleeves.
This short Tie Blouse is perfect for wearing over a bathing suit top, or you can simply wear it over a bra and pair with high-waisted shorts! It has a lovely collar and 3/4 length sleeves. We love it paired with this narrow silhouette Skirt that is reminiscent of one a jet-setter would wear in the sixties. It sits at natural waist and has waist pleats that give the skirt a nice tulip effect.
This Halter Dress lets your enjoy the summer, and feel beautiful! It allows you to dance or go shopping with ease thanks to the loop fastening at the back.
Pearls and jewels adorn the neckline of this slightly fitted shift Dress. It is so pretty made in bouclé and boasts a lovely shoulder line.
Wow them in these Shorts in lace and lined with crepe satin. They have deep pleats in the front and darts in the back.
The highlight of this deep blue Satin Dress are the drop shoulders and puckers at the neckline.
This airy Blouse has a lace back that gives off just the right amount of appeal. These Pencil Pants are a spring time essential! You can wear them anywhere and with anything. They are 7/8 length, so you can easily walk on the beach.
This is a floor-length summer Maxi-Dress with smocked waistline has a deep V-neckline and skirt with lining. What a beautiful dress this is! Wear it will all your favorite summer sandals and wedges, it also is flattering with its tie at the waist.
This loose Tunic has raglan sleeves and makes the perfect cover-up when yachting. It is decorated on the neck, sleeves and hem with wide cuffs.
This is one not to be missed! This close-fitting Dress of stretch lace and chiffon with ruffled, diagonally oriented longitudinal seam and asymmetrical neckline is perfect for all your spring outings.
Happy Sewing!