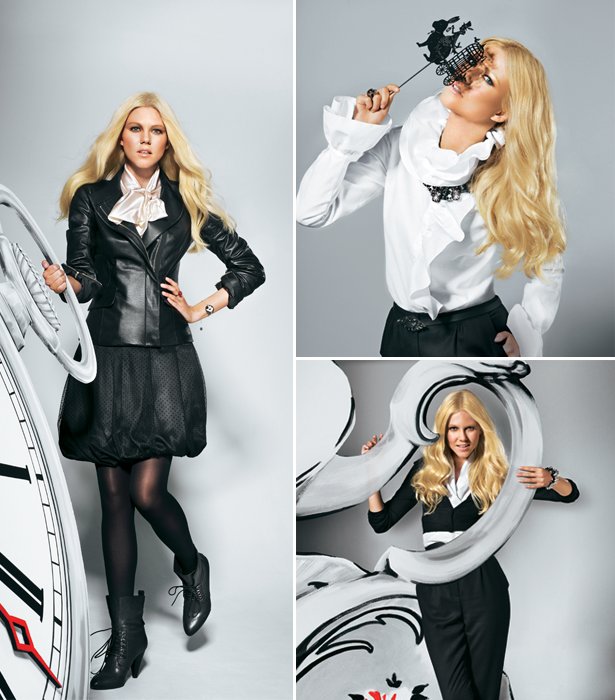 ShareThis
We took a trip back in time, and are now sharing with you this magical pattern collection from burda style magazine's September 2010 issue. These designs are ornate and have beautiful draping and structure. The limited color palette lends itself to the wonderland theme.
This is a fantastic Coat for everyday wear with a classic houndstooth pattern and that is gently tailored.
This is a great Blouse pattern with a giant ruffle! See for yourself what happens when you take a boring collar and sew a giant ruffle onto it and then also attach ruffles to the sleeve hem.
Here is a lovely wrap Blouse with oversized shoulders and shawl collar. It looks stellar paired with the Wrap Mini Skirt which is saucy and dramatic with its side draping.
These Pencil Pants make the illusion of long legs! There is also zippers in the inseams that make for a great detail.
This matte Two-Tone Dress sure makes an impression! What makes it so special is the contrast cream-colored bib panel and the use of a narrow band collar.
Here is a tailored Leather Jacket that dazzles. And it is sewn with a concealed zipper. We love it worn with this voluptuous Balloon Skirt is sewn with a double layer of fabric! One of satin and the other of dotted tulle that gives it that va va voom effect.
This Silk Blouse surely makes any outfit outstanding! Simple black double cuffs and a collar tie adds respectable volume and a special touch.
Happy Sewing!