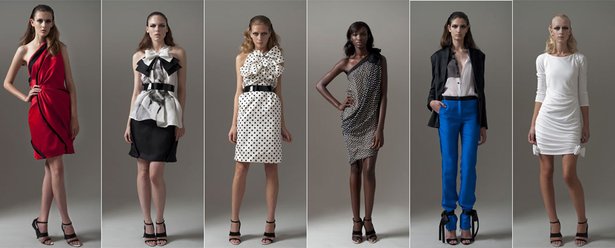 ShareThis
The Ecco Domani Fashion Foundation awards, announced early this month, gave seven lucky designers $25,000 to put toward their Fall 2010 shows. One winner's looks are pictured above. The collection, states Nepalese designer Prabal Gurung, was inspired by a 1970s bottle of his mother's YSL perfume. He adored the packaging and tried to incorporate whatever that was that lured him to this attention to detail, into his collection.

Says Prabal about his evolution as a designer: From one season to the next, it's an evolution, not a revolution. Whatever I do in one season, I can do better, and I want to get to a point where it reaches perfection. The vision gets clearer and clearer every season. But it's going to be the same idea: beautiful fabrics, lots of draping and tailoring, an old-school way of making clothes done in a modern way. But it's my first runway show and it's definitely going to have a little bit of attitude.

What do you think of these looks? What kind of pieces would you design for NOW, in an economic climate such as thus. If you were given $25,000 to design a collection what would you do differently from now, where would you splurge? Would this win allow you to create what you've always dreamed of creating?