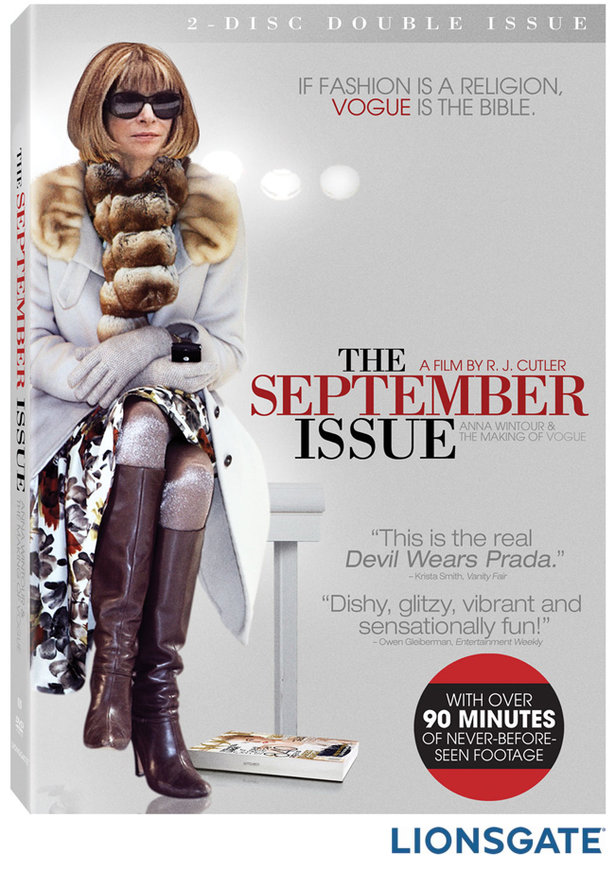 ShareThis
Enter to win the must-have fashion accessory of the year, The September Issue!
The September Issue is a documentary that chronicles the life of Anna Wintour, famed editor-in-chief of American Vogue, as she and her team create "the must-have Bible of fashion." Her impeccable taste and fearless leadership has established her as one of the leading voices of style, yet it is her love for the art of fashion that has driven her to run one of America's top magazine enterprises for over twenty years. The BurdaStyle community can certainly share in Anna's sentiment.
Until February 10th, tell us why you love fashion and be entered to win a DVD of the The September Issue! Post your answer in the comments section below. The winning entry will be selected at random and announced on Thursday, February 11th.
Available as a two-disc "Double Issue" DVD containing extensive bonus materials, including over 90 minutes of never-before-seen deleted scenes, audio commentary with the director and a photo gallery, The September Issue will be hitting stands on February 23, 2010.
Good Luck!
- The BurdaStyle Team
*Void where prohibited. No purchase necessary. For residents of the continental U.S. only.
---
A riveting behind-the-scenes look into the world of fashion, The September Issue debuts on DVD and digital download from Lionsgate. An intimate, funny and surprising look at Vogue's legendary editor-in-chief Anna Wintour and her team of larger-than-life editors, this is the captivating story of how they create the must-have Bible of fashion: The September Issue. Director RJ Cutler explores the untouchable glamour of Wintour's Vogue to reveal the extraordinarily passionate people at its heart. Hailed as "highly entertaining" (Time Out New York), "completely addictive" (Salon.com), "a hurricane of fabulousness" (New York Magazine) and "dishy, glitzy, vibrant and sensationally fun" (Entertainment Weekly), The September Issue stars a who's who of fashion, featuring unprecedented access into the hallways of Vogue magazine, along with fashion royalty like Oscar De La Renta, Jean-Paul Gaultier, Vera Wang, Thakoon, Karl Lagerfeld and more.
At the eye of this annual fashion hurricane is the two-decade relationship between Anna and Grace Coddington, incomparable Creative Director and fashion genius. Through them, we see close-up the delicate creative chemistry it takes to remain at the top of the fashion field. Now, with the biggest issue ever hanging in the balance, Anna and Grace confront the runways of Fashion Week, the backrooms of the world's biggest designers, the high-stakes photo shoots – and each other – as the Vogue team scrambles to find the perfect look for each page of The September Issue. Cutler delivers a riveting look into the world of fashion that is as fun, fabulous and fast-paced as the world it captures.
Connect with The September Issue on Facebook today!