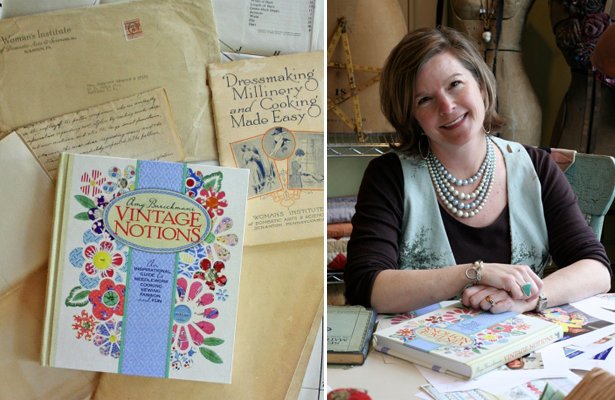 ShareThis
Amy Barickman, founder and owner of both Indygo Junction and The Vintage Workshop is a leader in the sewing, needle arts and retail crafting industry. Amy will be guest blogging here with us at BurdaStyle and wanted to take a moment to introduce herself and give you guys the chance to win a copy of her fantastic book, Vintage Notions: An Inspirational Guide to Needlework, Cooking, Sewing, Fashion and Fun. Read on to see what inspired Amy to write Vintage Notions and how you can comment to win your very own copy!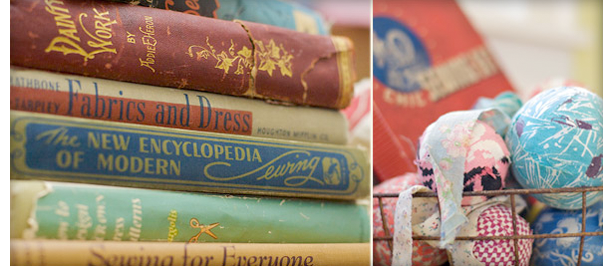 It was several years ago that I first discovered Mary Brooks Picken. I was indulging my 'obsession'
with vintage textiles, illustrations & ephemera when I stumbled upon a series of beautifully
illustrated "Inspiration" newsletters from The Woman's Institute in Scranton, PA. I was struck
immediately by the shear beauty in the illustrations and in the clarity and strength in its writing. In
article after article, Mary and her staff encouraged women to actively work to discover their
creativity, not just for themselves, but for their families as well. Mary believed strongly that in every
woman there lives a creative spirit that can be tapped for both personal fulfillment and financial
security.
In Mary's writings, I found a kindred spirit. Like Mary, I have spent a career trying to empower
women to find their inner creativity through fabric arts. From Indygo Junction (indygojunction.com)
and its focus on fashion sewing & patterns, to The Vintage Workshop (thevintageworkshop.com)
and its digital vintage images, it has always been my hope that everyone could find, as Mary called
so perfectly phrased it, "faith in their own two hands." This is why I wrote Vintage Notions.
One of the great rewards of working in this industry is getting to work with a seemingly endless
stream of gifted, fun and talented individuals from all over the country. Since I began 20 years ago,
this community has inspired me to be more creative, challenged me to work harder and been a
source of great comfort and friendships too numerous to list. Today, as blogs and gatherings like
The Creative Connection increase these opportunities to build meaningful relationships with new
friends, I look back with great gratitude to everyone that has been a part of my fulfilling life. This is
why I wrote Vintage Notions. For this wonderful community.
Whether it's due a sluggish economy, an influx of talented young women looking for their creative
voice or simply technology catching up to our need to share and helping us discover the talent that
was always there, the home arts are back with a vengeance. From Etsy to Lifetime TV's "Project
Runway" to the D.I.Y. network itself, we have rediscovered the value in recycling and handmade.
Through my love of vintage I've learned that, when we take the time to look back at the wisdom,
struggles and talents of the women that came before us, we find great inspiration and direction in
our lives today. This is why I wrote Vintage Notions.
In 1926, on the 10th anniversary of the founding of The Woman's Institute, Mary Brooks Picken
wrote that, beyond everything else–beyond the creativity you nurture, the skills you learn, the self-
reliance you discover and the friendships you make– the one thing she wished for every woman
was that they each learned "to attain that bigger thing, the art of living contentedly and graciously."
If my book can move someone one step closer to that goal, then it has done what I dreamed it
would.
This is why I wrote Vintage Notions.
-Amy Barickman
Now that Amy has shared a little bit about herself, it's your turn. Tell us who inspires your creative sewing endeavors and you could score a copy of Amy's Vintage Notions book! Make sure to leave your comments by 9:30am EST on Monday, February 8th for your chance to win!