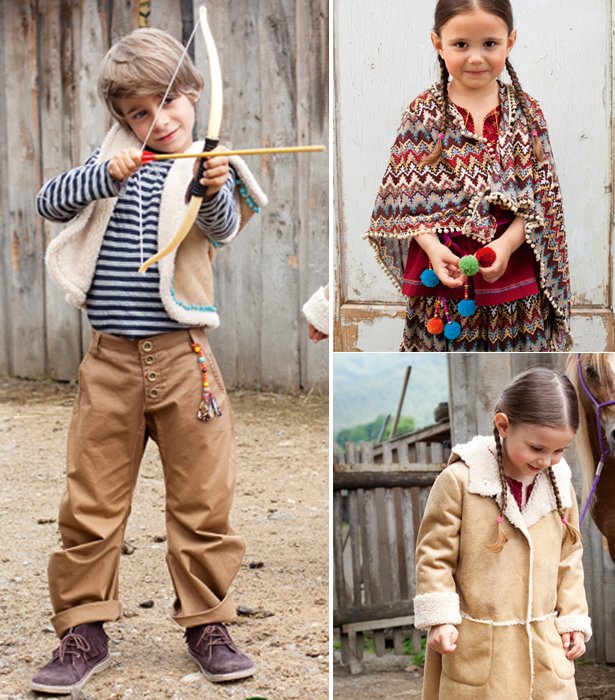 ShareThis
This new children's pattern collection from burda style magazine's October issue is a must see! Playing outdoors is the most fun and that's where real adventures can be found. These perfect little designs are made in imitation lamb shearling, jerseys, gabardine and embody lovely folklore details.
This lovely Shearling Coat is sewn in imitation lamb shearling with unfinished edges. It is closed with snap fasteners so the cold doesn't have a chance to come in! The hood and roomy patch pockets are other great features.
These Stretch Boy's Trousers are perfect to hiking with friends and animals. A boy's trousers must look casual and also be able to take a beating. These trousers are sewn from a stretch fabric, with a crotch gusset for a comfortable fit
This printed Peasant Dress of viscose/rayon challis and dyed doily from the flea market is simple and carefree. The skirt is full enough to allow for active play, and the details make is perfect for daytime.
This Children's Parka has all the features that an outdoor jacket needs, including bellow pockets, hood, and a concealed zipper closure. It's lined with cozy fulled knit fabric and has a waist cord to secure it against the cold.
This Tassel Blouse has front and back yokes and is embellished with braids and embroidery. Let your imagination rein free with this flowy blouse! We love it paired with the this full jersey Skirt that is sewn with an impressive zigzag print. It has a white underskirt with lace at the hem.
This Children's Waistcoat of cuddly imitation lamb shearling has an attached hood and pompom trim to please active little children. It is finished off with a crocheted doily applied to the back. It looks great paired with these sturdy Shaped Trousers that have a wide crotch gusset panel and center front metal buttons. The pendant of tassel and beads is easy enough for your little boy to make himself.
With a left over piece of imitation lamb shearling you can make this Rucksack Bag with crocheted flap and pompom fasteners.