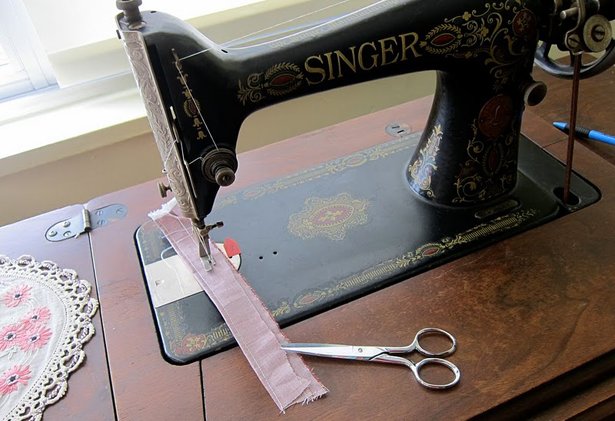 ShareThis
Readers, have you ever sewn with a vintage treadle sewing machine? Have you ever wanted to?
I bought a 1920's-era Singer treadle a few months ago, and I use it all the time. It's not the only sewing machine I sew with, but it is one of my favorites.
I was making men's shirt on it recently, and I thought to myself: Why am I putting myself through the trials of treadling? I could certainly make an equally-good-if-not-better-looking shirt faster on one of my many mechanical machines, like my precise, fully-electrified Singer 15-91. It's not as old as my 1920 Singer 66 treadle, but it's still nearly 60. Isn't that enough? The short answer is no!
It might be easier to understand if I lay out the reasons why someone might opt to use a treadle. If I've missed anything, please feel free to add to the list. (You guys are great at that!)
1. It saves electricity.
This is undoubtedly true. But then again, a sewing machine isn't like an air conditioner that runs for hours on end. How much electricity can a sewing machine use? You're just pushing that needle up and down and maybe keeping a small light bulb burning. No, that's not my primary reason for sewing with a treadle.
2. I bought it, so I feel I have to use it.
This is a very good answer, but it doesn't really apply to me. I own roughly (I'm afraid to take an exact count) vintage sewing machines, most of which sit unused either in their hard plastic cases or atop my sewing machine table (which is looking a little cluttered of late). I don't feel compelled to use my vintage zigzaggers for anything other than the occasional satin stitch or invisible zipper installation — something that I find harder on an old straight stitch machine. Oh — and sewing on buttons. They excel at that!
I could just as easily close up the treadle table and put a lamp on top and call it a day.
3. It makes a beautiful stitch.
This is true, but it applies to all of my machines. When thread tension is balanced, stitches always look great, and I am frequently amazed by how often people talk about the fantastic stitch their expensive machine makes as if it were markedly different from the stitch you'd get from a cheap machine. If you break down how a stitch is made, it isn't very complicated and the basics haven't changed in more than a hundred years.
4. It's a way of honoring the past.
Now we're getting somewhere. There's something soul-enriching about doing something the way people did it in the past — especially when the results are of equal if not better quality. Of course there are faster ways to do things, but there are lots of things people do the more labor-intensive way just because it feels better. Many of us still write long hand even though writing at a computer is generally faster. Many long-hand writers even insist on using a fountain pen! They like the way it feels and it's a way of honoring the writing — and thinking — process.
Think of the "Slow Food" movement. Of course it would be faster to use a microwave to cook the potatoes and you might not even detect the difference, but for the Slow Food aficionados, it's about the process of cooking, and microwaving doesn't fit in. We got rid of our microwave years ago, by the way, around the same time we gave away our television set!
5. It's an excellent way to hone your sewing skills.
Have you ever seen swimmers practice with strange rubber appendages attached to their hands and/or feet or wearing baggy nylon suits meant intentionally to create drag? These make swimming more cumbersome; there's a larger surface to pull through the water. The reason they train this way is because when they take these swim aids off, they feel like they're cutting through the water like a speedboat.
The same applies to a treadle sewing machine. Right now since I am relatively new to this machine (and vice versa) it definitely makes the sewing process more challenging. Not only do I have to power it myself, there's no numbered needle plate like I'm used to (and I have chosen not to label it myself with tape for the time being). There's a screw edge that lines up with 1/2 inch and a hole exactly at the 5/8 inch point so there's really no need to mark anything, but this is all new to me.
All the topstitching involved in making a shirt — on the collar, sleeve plackets, button plackets, yoke, etc. — is hard enough to do precisely on a regular electric machine; peddling a treadle while you're focusing on turning corners and getting your stitching even makes it even more challenging.
But I know that when I return to any of my electric machines, topstitching will be that much easier!
BONUS REASON #1
It's fun. It really is fun to treadle a sewing machine and in the scheme of things it's not hard. It's not like learning to play the piano; it's more like learning to play a player piano.
BONUS REASON #2
It's super quiet, making a gentle clackety-clack. Not that I'm waking any sleeping toddlers in the next room with my regular machines, but still. It's a soothing sound.
And there you have it: seven great reasons to sew with a treadle. Have I convinced you yet?
And here's my shirt:
Speaking of people-powered sewing machines, are you familiar with the All Saints clothing chain, based in the UK and recently arrived here in NYC?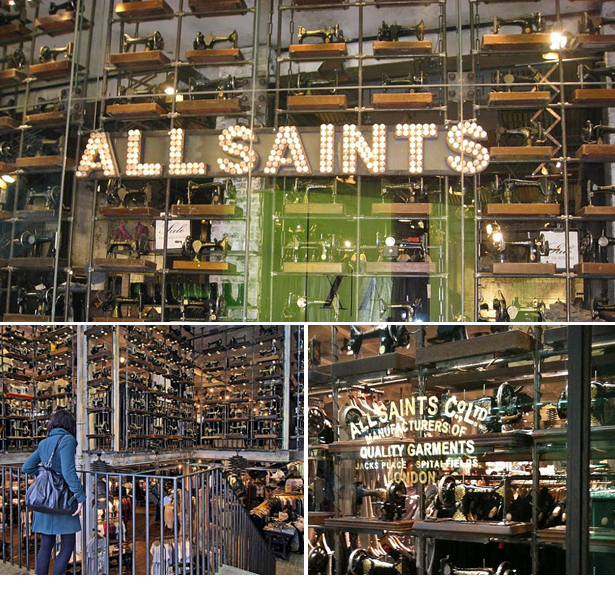 All Saints photos via here, here and here.
Some people love these displays (their trademark) but these photos left me feeling a little queasy — like walking through the Museum of Natural History and seeing all those stuffed wild animals on display. I know this is meant to look cool (and it does), and perhaps could be considered a tribute to the sewing machine, but I don't like it.
It makes me treasure my treadle even more.
Readers, I ask you: have you ever sewn with a treadle or hand-powered machine? If not, would you like to give it a try?
Here in the United States, they're surprisingly easy to find. (Nearly everyone who sees mine says, "My grandmother used to have a machine like that!")
What do you think?
~Peter
When native New Yorker Peter Lappin bought his first sewing machine two years ago to hem a pair of thrift store jeans, little did he know he was initiating a journey that would bring him fame and fortune. While awaiting his fortune he stays busy writing "the world's most popular men's sewing blog," Male Pattern Boldness, and now contributing to BurdaStyle.
"For more than twenty years I'd lived on the edge of the Garment District without even knowing what a seam ripper was. Now I rip daily!"