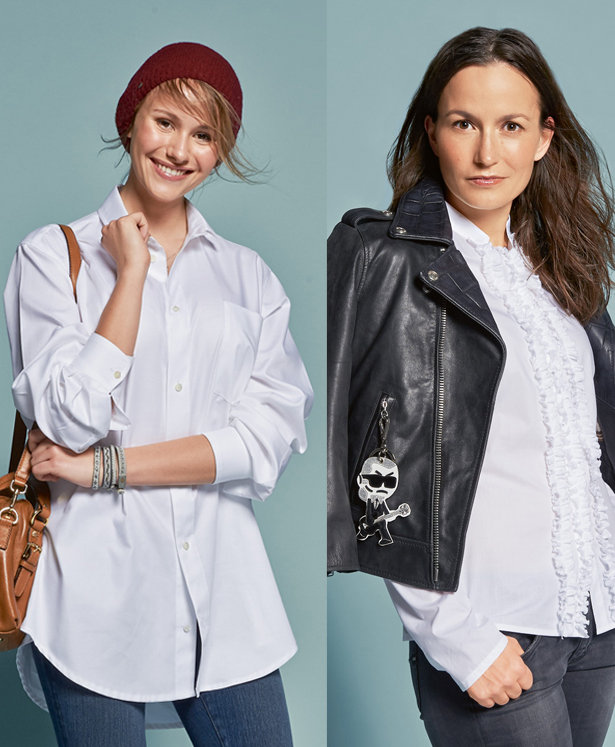 ShareThis
It may be Labor Day, but white shirts are a staple all year round. This collection has seven styles, from simple to sculptural. All you need is a pair of jeans to go with them. These designs are from the September 2013 issue of Burda Style magazine.
Everyone needs a Pocket Shirt in their closet. You don't have to steal your boyfriend's shirt with this classic pattern. This is the shape you'll wear everywhere, from the office to the park. Wear it with oxfords and leggings or skinny jeans.
For a girlier silhouette, make the Flounced Blouse. This flirty top's flouncy hem pairs well with fitted pants and pencil skirts. The single button closure and cuff-less sleeves have a modern look that works well in solid colors. Try this style when you want to draw a little attention to your waist without a full peplum.
Without buttons, all the interest in the Tied Up Blouse comes from tied up sleeves and hand tied bows at the neck. This is a great weekend blouse to wear with loose trousers or shorts, especially in bright colors or patterns.
The Ruffle Front Shirt is perfect for throwing under a blazer or jacket for a feminine touch. A subtler version of a tuxedo shirt, this blouse has little ruffles at the front, a nehru collar and bust darts for a good fit.
Change up your look with an architectural design like the Tie Back Blouse. This top nips in your waist with darts at the front and a tie at the back. The longer length works well with leggings and leather riding boots for a classic look.
It doesn't get any simpler than the Basic Blouse. This essential style goes with anything, especially menswear looks like slouchy khakis and jeans.
An inverse pleated front and no buttons give the Inverse Pleat Blouse a modern architectural look. The collarless neck is perfect for showing off a statement necklace, so pick something nice and sparkly to set off this simple top!
A white shirt that suits your style is all you need to feel put together any day of the week. Wear your favorite with broken in jeans and a ponytail on the weekend, and then tuck it into a pencil skirt for Monday at the office. You can't go wrong!
Happy sewing!