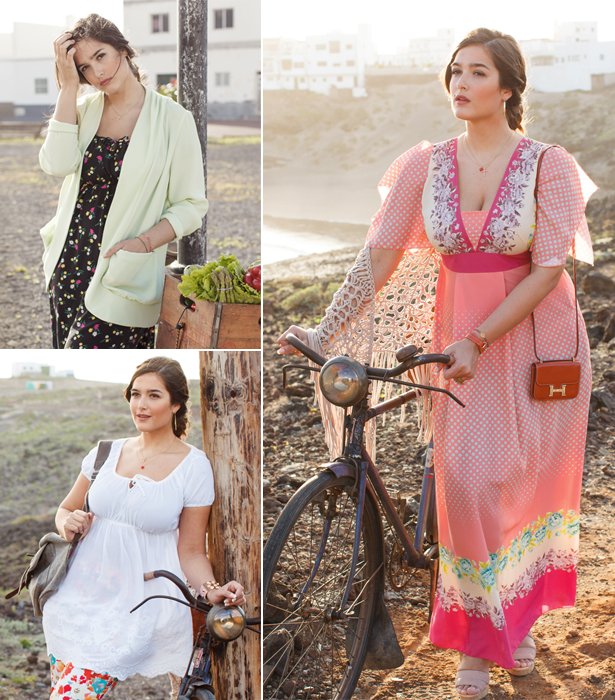 ShareThis
These new plus size sewing pattern are from burda style magazine's April 2013 issue. Whisk yourself away on a romantic weekend in these lovely feminine dresses, tops and jackets. They are flowy, floral and great for springtime.
This Maxi-Dress goes right to the ankle and is made in slightly transparent fabric, so it makes a perfect cover for an under-slip or bathing suit.
This tunic Top looks great with all your summer bottoms. It has a high empire waist seam and a beautiful neckline. We especially love it paired with these great Floral Pants.
This Satin Jacket has a wide rounded collar panel which is pleated at the shoulders. Makes a great over coat for those cool spring nights.
This flowery Tunic top consists of two layers. The over layer is shirred at the waist, and has slits on the shoulders and center front so the under layer can shine through.
This Dress has a lovely Carmen neckline and empire waist seam. It falls just above the knee with a loose fitting silhouette that is so care free!
This is a nice hip-length Satin Jacket with pouch pockets. It is the perfect transitional piece to wear over all your dresses.
Here we have a beautiful Maxi-Dress. It has a wide waist band that accentuates the hourglass figure, and the V-neckline frames the face beautifully.
This is a lovely Summer Dress with plunging neckline and gathered shoulder seams. A satin under-dress peeks out from underneath.
Happy Sewing!