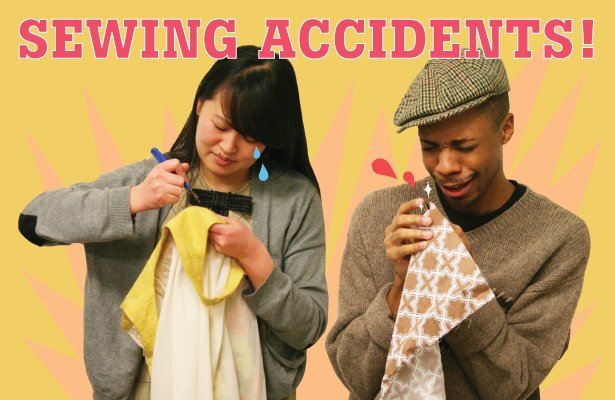 ShareThis
We've all had them in our sewing journey — the inevitable mistakes. A stitch on the wrong side, a stabbed finger by a sewing needle, a burnt piece of fabric — yep, been there, done that.
A few weeks ago we asked our Facebook fans and Twitter followers to share their most embarrassing and/or biggest sewing accident, and while some of the results were a bit sad, many were hilarious and comforting. It helped us to see that no one, regardless of how perfect their final garment may end up, is exempt from a few sewing mishaps here and there.
Here are a few of the moments shared:
- Samantha H.: "Turns out the lining for the first swim suit I made wasn't opaque when wet!"
- Gavi K.: "I was ironing a beautiful synthetic fabric and no one told me that the iron was not working and despite the low temperature I set it to be…it burned my fabric, so I ended up making a rouched dress"
- Tasia P.: "I burned my finger on my sewing machine – I bet you're wondering how that's even possible! I had it on all morning and then picked it up to move it – with my finger on the still-hot lightbulb! Ouch."
- Ursual N.: "First time I ever made an outfit for someone else, I forgot to wash the fabric before cutting. But washed the beautifully finished suit! It shrunk and ended up being about two numbers to small!"
- Hayniva L.: "I sewed my pointer finger with a zip zag stitch with black thread. It went right [through] my finger…"
If you didn't get a chance to share your mistake, please share: Describe your most embarrassing and/or biggest sewing "accident." We'd love to hear!