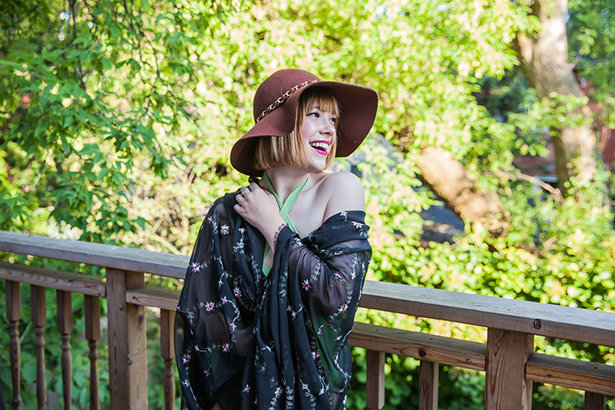 ShareThis
I just got back from vacation a couple of days ago, and I feel refreshed and excited to get back into my sewing routine. I wanted to share with you some garments I sewed in preparation for my vacation that really were essential and made my travel wardrobe more comfortable, practical and stylish! Read on to see the 3 things you need to sew for your next beach vacation.
The first thing that I made was a sleeping romper and wore it almost every single night (thankfully most of our accommodations had laundry)!
I used our Sleeping Romper pattern and I was so glad I made this to travel with. I went to Portugal where it is hot, so I needed something cool to sleep in that was comfortable, cute, and could pack easy. Why pack two things for pyjamas when you can pack a onesie.

The top had a casing along the front and back where a long strap threaded through to make the straps and gathers adjustable.



I serged together the waist seam and then sewed another seam 1/2" away to create a casing. I left an opening at the front where another strap could be threaded through to cinch in the waist.



I used contrasting printed jerseys from Art Gallery Fabrics to create the bands and straps. This was leftover fabric from our FREE Knit Maxi Dress Sew Along. You can still register for free and sew along with me.


Since I was going to be on the beach I needed a swimsuit and cover up! I wanted the cover up to not look to "beachy" so I could wear it out in the day or night with jeans or shorts.

For the cover up I used our draft-it-yourself Kimono pattern, and then for the suit I used our Swimsuit Sloper pattern.



To finish the side edges of the kimono I actually used the selvedge edge to get a fringe effect. I love how this kimono is a quick sew and oh so versatile, I also made one for my aunt who was on the trip as well. If you want to see how this kimono is sewn together you can watch the tutorial video here.



For the swimsuit I drafted it to be strapless (just above the bust radius circle on the pattern), and then used a little piece of elastic to gather it in the front. I sewed a thick strap that twisted around my neck to help support the suit and create visual interest.



I elasticated the leg holes with rubber elastic and sewed into place with my coverstitch machine. Love that machine for making my own swimwear!


I made a couple of other going out pieces like my dress in a day, but these were the ones that I wore the most and glad I brought with me.
What are your travel garment essentials?
Happy Sewing!
Meg