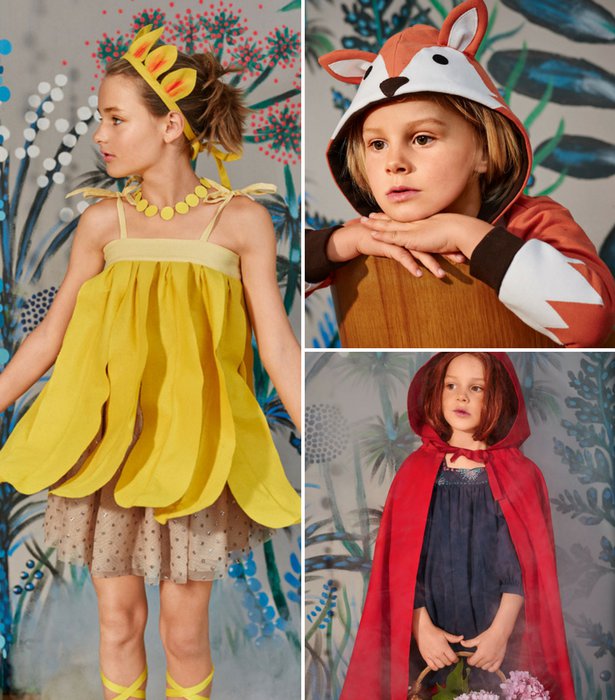 ShareThis
Anyone can pull together a princess or a cowboy costume… This Halloween season we introduce you to Little Red Riding Hood, a magician's apprentice, a fox and other mystical forest figures from the 01/2017 issue of BurdaStyle magazine.

Pull on the magic. The magician's cloak is sewn together in a way that it can be worn with either side outward. Today black, tomorrow red…

MAGICIAN HAT
For special occasions, the magician must naturally wear their pointed hat! To make yours, draw a triangle onto construction paper with a rounded lower edge. Cut and glue circles of various sizes from a red construction paper. Glue the sides together. Attach two bands of petersham on the inside of the rim that can be tied under the chin when worn.



It would be nice to have the opportunity for more glimpses of the elusive forest gnomes – their blue and white overalls and the sophisticated XL- caps and shoes have real fashion potential.



So sweet that the wolf will simply lie at her feet in awe. Red Riding Hood's hooded cape is held in place with a strip of wide petersham.



Lady forest gnomes naturally choose to wear a chic dress with their blue suit and white cap. We just cut away the sleeves of an adult size dress to pull over.



A clever idea! The fox costume uses the hood to pull down with its appliquéd facial features so that it is not only a cute costume, but also an absolutely comfortable one – a super choice for planning top-secret stealth missions…



To ensure that the spine of the dinosaur stands straight and ferocious, we've reinforced them with interfacing. The wings attached at the shoulders are also filled with padding.



The most beautiful flower in the garden has arrived. The individual petals of felt are reinforced with wire so that they can be individually bend and adjusted. The floral crown with felt petals is painted and tied in back.