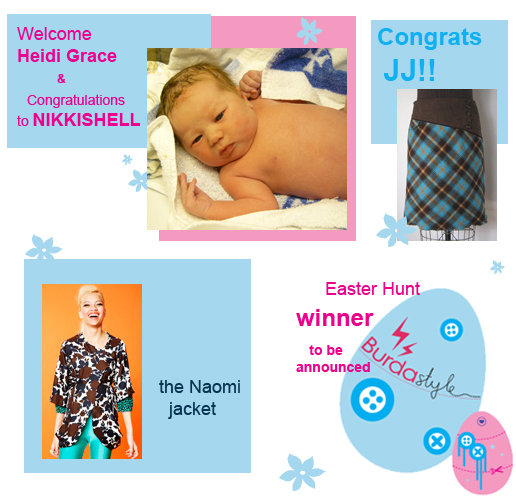 ShareThis
Hi everyone! So as you know, last week we had to say goodbye to our dear friend Nayantara, this was very hard for us; but this week we get to say hello to someone new! We would like to welcome and introduce you to Heidi Grace!! Our brilliant contributor and good friend Nikkishell gave birth to a wonderful little girl on March 20th. So, congratulations Nikkishell and welcome Heidi Grace!!! All our best wishes to both of you.
In other news this week, we too have a new addition here at BurdaStyle, the Naomi Jacket!! This pattern came from Kasia's incredible jacket pattern for a doll and ended up on one of the all time queens of the runway. You can read the full story here.
We had two contests that ended this weekend, The Sew-Along Mini Challenge and the Easter Egg Hunt. We would like to thank everyone who entered these contests. Your creations were all breathtaking and your hunting skills are unparalleled. I guess when you have an eye for detail it helps with everything! We would like to congratulate JJ again for wining the Mini-Challenge! If you haven't checked out her winning creation, you should. And remember, keep your eyes peeled for the announcement of the winner in the Easter Egg hunt!
Keep on creating!
Love
BurdaStyle