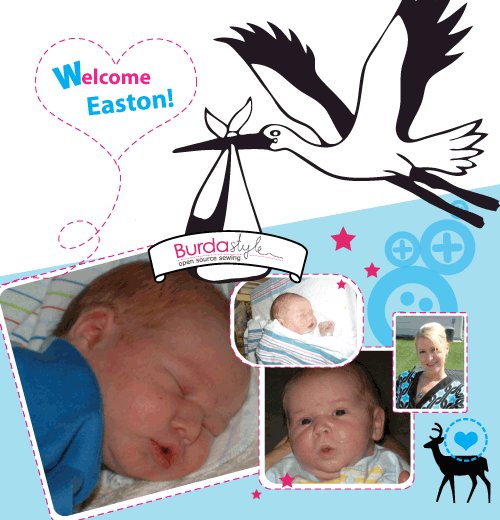 ShareThis
Welcome!
We want to welcome the newest member of the BurdaStyle community. Our wonderful contributor, Stacy , gave birth to little Easton James in late April. He is a happy, healthy, beautiful boy. We are so happy for Stacy and send her all of our well wishes.
There are a couple other causes for celebration this month, things like prom and graduation. The countdown to graduation has started for most students, and for some, prom has already come and gone.
Here at BurdaStyle, we got to talking about our proms and graduations. The horror stories, the dates, the laughable wardrobe choices, we even started bringing in pictures. So for the next week we will be featuring a different member of the BurdaStyle team in what they wore to either prom or graduation. We hope you enjoy as much as we did!
We would love to see your prom/graduation photos as well! So whether you graduated in 1948 or 2008 send 'em in to answers at burdastyle.com. We will be posting the photos that are the most fun.
The BurdaStyle Team