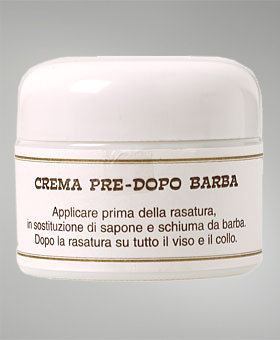 ShareThis
BEAUTY THE KINDEST CUT
What with the glut of beauty products catering to women, it seems ungenerous to horn in on the few good things made for men. But, you know, whatever. Any girl who's had a boyfriend snake her lip balm, or condition his hair with her Terax Crema, or sheepishly borrow concealer, well, that girl knows that in a relationship, vanity is share and share alike.
But Santa Maria Novella's Before and After Shaving Cream is one boy thing you want to buy for yourself and keep that way. Women have long gotten the short end of the stick when it comes to shaving products, never mind the fact that inch-for-inch, we depilatorize more of our bodies in a year than most men do in a lifetime. The venerated Florentine line Santa Maria Novella has plenty of shaving products made for dandies for instance, an after-shave that doubles, a la Ben Gay, as a muscle balm, and triple-acts like Gatorade for the skin but its Before and After cream performs a matchless marriage of efficacy and luxury.
For shaving between waxes, the cream is a rich yet gentle moisturizer, dense enough to prep short hairs for the blade. Dab a little more onto skin after you finish, and it's just the right thing to get rid of that gnawing post-shave sting. Made from natural ingredients such as sweet almond oil, Vitamin E, pomegranate and calendula blossoms grown exclusively for the brand, the crema pre-dopo barba, which sounds cooler in Italian, is a miracle-worker for dry and tender winter skin. If you really love him, you'll give him jar of his own.