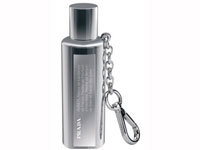 ShareThis
This week, BurdaStyle goes on the road.

BEAUTY

GO DE

TOILETTE

A couple years ago I liked a boy I also sort of hated. He lived on the West Coast, I'm pretty sure the like/hate thing went both ways, and as though the miles separating us and our mutually ambivalent dynamic didn't throw up enough space, said boy was also a wizard at the dark art of withholding. Like, for example, I'd dash off some relatively snappy email along the lines of, "Hey, did you see this article relating directly to X thing I know totally obsesses you?" And he'd write back something along the lines of "Yup."

Let's call him "The Infuriator." Anyway, at around the point where emails that went so far as to say "yup, later" seemed rich with feeling to me, I mailed him a DVD, a friend's reel that he'd asked to see. The DVD was in a plastic Amaray case, and I carried it around in my black hole of a purse for about a day, until I finally got to the post office, put the case in one of those padded envelopes, and sent it off regular mail. A week later, The Infuriator texted me:

"Got the DVD. Smells like you."

Smells like me? Smells like me?

I am sorry to report that this message occasioned much speed-dialing. "What does this mean," I queried, again and again. My best friend, always helpful, said she had no freaking idea. A few of my other close female pals were optimistic, suggesting that, in his dark and wizardly way, The Infuriator was trying to tell me that he missed me. I contemplated more obscure meanings, allegories and runic symbolism. Perhaps "smells like you" was his way of saying that my friend's reel exuded some indefinably me-esque quality. The packaging? The motion graphics on the menu page? Some hidden language of shot composition and edit strategy? For god's sake – the sound design? Was that it?

A day later, I still hadn't replied to his text. I needed guy help, so I dragged a male buddy of mine out for a drink. Let's call him, Almost Was, Now Taken. The Infuriator's message was easy enough to remember but I dug my phone out of my purse anyway, a procedure simplified by the fact that the day after mailing the DVD I'd switched out the big canvas hobo for a tailored leather clutch.

"Maybe," suggested Almost Was, glancing at the text message over his beer, "maybe it just smells like you. Like, smells. Like you."

It was the one possibility I hadn't considered, because it was the one possibility that seemed all too absurd. How could a plastic Amaray case not only pick up traces of my scent, but also carry that scent through a weeklong sorting, mailing, and delivery process? Rubbish, I thought, and when I got home that night I sent The Infuriator a pithy and withholding message of my own: "Good."

Cut to: A month later. The Infuriator is history. New York City is experiencing an unseasonable cold snap, and I am tearing through my apartment looking for my favorite wool hat. Eventually, I remember that it's still in the big canvas hobo I'd relegated to the back of my closet. I grab the hat. It smells like me.

Or, more accurately, the hat smelled like the perfume I was wearing all the time back then, a perfume I still wear, sometimes, and still love: The original Prada Parfum. Prada was the scent I had on when I met The Infuriator, it was the perfume lingering in my hair that he said he loved the night he pulled me close and breathed me in, and it was the bottle with the fancy aromatiseur top that had, I realized, spilled all over big canvas hobo. Like I said, the purse was a black hole, and for a few days after returning from a trip to L.A., I'd carried the Prada around with me unwittingly. I knew the perfume had lived in there – I'd missed it, searched for it, and finally discovered it in the crevice of the bag where my earphones, three disappeared lip balms, a tin of Altoids, some aspirin and about a dozen pens had also been hiding. Inured to the Prada aroma, however, I hadn't noticed the spill. Two days later, I'd picked up the copy of my friend's reel.

I think of this story as a cautionary tale, a cautionary tale about infuriating men, a cautionary tale about too-large purses, and a cautionary tale about throwing your favorite scent into your too-large purse, in case you want to top yourself off on the fly. The infuriating men and the too-large purses I stand by, but Prada has convinced me to rethink my position on portable perfume. The concept is fine; it was the packaging that left something to be desired. And now Prada has solved the packaging problem with its keychain-style Prada Parfum de Sac, a mini-bottle that can be refilled with any of the three scents in the line: Classic, the one I hold dear, the lighter Tendre, or the more pungent Intense. Tighten the top, hook the bottle to a key ring, throw keys, rings and all into your modest-sized and easily navigated bag, and swear off men with the arrogance of the extravagantly handsome. Now you're good to go.