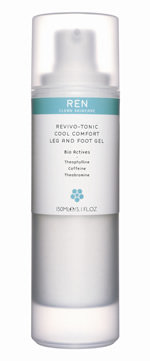 ShareThis
This week, BurdaStyle gets its groove on.

BEAUTY

REN

REVIVO

-

TONIC

I am the queen of stupid injuries. Other people lay themselves up tackling black diamond ski trails, or training for marathons, or going to surf camp in Costa Rica. Aside from a recurring case of wrist tendonitis due to whacking the ball too hard at tennis, all my serious injuries are ones I have to lie about later. Some highlights:
Age 12: Demonstrating a schtick I liked to call "whine-aerobics," I slip on the tile in our kitchen, fracturing and spraining my left ankle, as well as chipping loose some interior bone. Crutches for six weeks, three months in an air cast, physical therapy thereafter. I tell people I fell horseback riding at camp, something that actually happened to my cousin.
Age 18: My third weekend at college, I am at a soccer team house party, tipsily flirting with the cute senior sweeper on the landing of the stairs; his teammates are bringing out the kicked keg, and I back up a few steps, to give them room… Thunk-thunk-thunk-thunk-thunk-thunk-thunk-thunk. I re-sprain my left ankle, pull my groin, and jam two fingers on my writing hand trying to catch myself. Inasmuch as this happened in public, there's really no way to lie about what happened, except to my mom. I tell her I got over-aggressive on a slide tackle at soccer practice.
Age 23: Sleeping over at my boyfriend's basement flat in Camden, I have set the alarm extra early, so I can finish memorizing lines for an audition; stumbling out of bed in the dark, my eyes half-shut, I trip over the script I'd left on the floor, and land eye-first on the hard back of his desk chair. Because I am happy to have an eye, after that one, and because this anecdote is so pratfall absurd that everyone assumes my boyfriend hit me, anyway, I tell people what really happened when they ask about my black eye. Except my mom, who is far from London, and whom I never tell at all.
I could go on. The toe I broke having sex in the shower. The cut on my jaw sustained trying to ford a wet snow bank in high heels. The hand slammed in a door as I left a fashion week party. The worst part about these injuries isn't the pain, which in recent years at least, tends to fall into "cramping my style" rather than writhing and keening territory. The worst part is the sense of remorse, the knowledge that if only I paid more attention, lived with more wisdom, was temperate, I'd be healthy and whole. This remorse comes over me, especially, the morning after a night of dancing. At a friends' wedding a few months ago, for example, I enjoyed myself so much that by the end of the night, I was convinced my legs were falling off. Hell, I wanted them to fall off: Dragging myself back home, they were nothing but dead weight. I was toast, and the next day, I was still toast.
It's really unseemly to complain about pain so decadently sourced. At first, I didn't. I tried to shake off the ache, but just crossing the brief distance from bedroom to bathroom sent my feet into active revolt, and though a cool shower helped, the two-block walk to my brunch date nearly did me in. My parents called, and I couldn't keep my trap shut: My mom suggested arnica gel; my dad, a veteran of army marches, told me to suck it up. Which is what I did, if the definition of "sucking it up" is broad enough to include a cab ride to a spa for a steam soak, foot massage and pedicure.
It was at the spa, awaiting my appointment, that I stumbled upon Ren's Revivo-Tonic Cool Comfort Leg and Foot Gel. This was so precisely was the doctor ordered that I bought the stuff on the spot and headed to the dressing room for immediate slather. I'm not saying Ren worked miracles – overexertion is overexertion, and you're supposed to hurt – but the Tonic did help assuage what was most bothering me at that point, the sense of dull heaviness ass on down. Right away, my muscles tingled with a vigorous minty sensation, the arches of my feet un-tensed, and by the time a new coat of polish was drying on my toenails, the swelling in my legs had visibly improved. I even managed to walk home, and since then, I've recommended Revivo-Tonic to all my waitress, bartender and harder-partying friends. They ask me why it works, and all I can do is chalk it up to the same miracle that allows fried muscles to keep on dancing all night in the first place. My credo: Injuries made in ignorance should be healed in ignorance. Which is better than my old credo, act first and lie later.