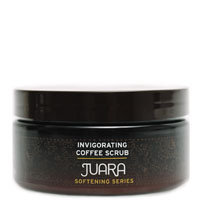 ShareThis
This week, BurdaStyle gets literate.

BEAUTY

ME &

THE

BEAN

About a month ago, well into the winter blahs, my best friend convinced me that what I really needed to do to shake up my hermit routine was, no, not a vacation, no, not a winning lottery stub, and no, not a haircut, which is what I'd been promoting as my ticket to happiness. What I needed was a detox. She'd do it with me! It'd be great! Like rehab, only different! The detox concept was reasonable, in theory: We'd melt away the winter weight and sweep out the mental cobwebs, all in one ten-day fell swoop. And so, dutifully, I followed her to the organic store and stocked up on lemons, maple syrup and cayenne pepper. We were planning to fast. Or, OK, she was planning to fast, and I was testing the waters of the idea of fasting, a concept that did not, frankly, hold much appeal. I invest a lot of psychological significance in my ability to eat a chocolate chip cookie when I feel like eating one; I often wonder how people with gluten allergies navigate a world without baked goods.

It wasn't the chocolate chip cookie thing that did me in, though. Day One was easy enough, a blizzardy Sunday with fresh Netflix waiting to be watched. The maple syrup/lemon/cayenne pepper concoction was nasty, but I drank a bunch of water and on balance, I went through the day feeling like I was nursing a hangover I didn't actually have. Then Monday arrived. I called my BFF at work: "Am I allowed to have coffee?" No, she replied, in a tone, I might add, that was just this side of cranky. (That's the thing about fasting.)

And thus my detox ended. I have gone days without coffee before, on beach vacations and when I have the flu, but I figure we're all allowed one addiction and for me, caffeine is it. Not just caffeine; coffee caffeine. I take mine black, no sugar, the better to savor the deep, rotund bitterness of a good dark roast. I like the taste, and functionally, I just can't do without the stuff. I've been drinking coffee since high school, and I became a confirmed junkie the day I installed a coffeemaker in my college dorm room. Every time I brew a pot, the smell is redolent to me of scholarship, of late nights awake over Bronte or Hegel or Tolstoy, of a mind awake with ideas. People have suggested I switch to Yerba Mate; same punch, they assure me, but no jitters. To them I say, I'd slather myself in cof, Coee if I could.

Well, now I can. Juara's Invigorating Coffee Scrub is made from real Arabica beans, and it smells like it, and thus I get a head start on my morning fix as I exfoliate in the shower. I'd heard before that caffeinated skincare has positive effects on circulation, helping to eliminate bloat, but I'd also heard that drinking coffee ultimately increases bloat through some counterintuitive working of the diuretic process. After a week with my coffee scrub, I see no difference, bloat-wise. But my skin is glossy and drum-tight, and I'm putting faith in Juara's claims that coffee has passed clinical muster as an extra-strength antioxidant. Sort of makes me feel like I get to have my detox, and drink it, too.