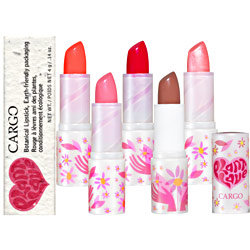 ShareThis
This week, BurdaStyle takes on life, love and mankind.

BEAUTY

KISS

ME,

KISS

ME,

KISS

ME

A long time ago now, a fellow writer friend and I came up with a no-fail pitch: A story about "the break-up kit," the autopilot stuff all women do after a bad split. The first editor that bit said she wanted to know more, and asked us to do some preliminary research. We called a bunch of our friends, not exactly a random sample, but even so we realized right away that our story had a major problem. We'd theorized that there are a few universal break-up rituals, and as it turned out, there aren't. Some women rent sad movies and eat ice cream out of the pint. Some women join a kickboxing class. Some women color their hair, others go on safari, yet others try to get laid as soon as possible. One woman said she burned all her sheets and bought new ones, which I thought that was worth a feature all by itself. The only thing we heard again and again was: Lipstick.

The brave new lipstick had been on our original list of break-up kit items; my friend and I each had a cosmetic bag full of reds, pinks and brownish purples that we never wore and had all but renamed in honor of the guys who'd inspired their purchase. It's a cheaper habit than shoes. We filed the story away for another time, determined to rethink it as a beauty piece, and never wrote anything.

In the meantime, I decided I ought to shift my lipstick paradigm. I hardly ever wear lipstick – I'm more of a gloss girl, myself – but for the past few years I've tried only to buy new lipstick when I'm in the first, heady blossom of a crush. That's the idea behind lipstick, to seduce, to promise, visually, the succulence of kisses. I'm not sure when everything got all turned around and tumbled over such that most women I know get a lipstick fix after heartbreak. It's perverse. Anyway, I haven't bought I new lipstick in a while, a really long while, but I'm feeling inspired again and lucky for me, romance coincides with a big lipstick story on the runways. Happier yet, when I trundled off to Sephora to see the pouty wares, I discovered Cargo's Plant Love lipstick.

Plant Love lipstick is, as far as I'm concerned, a perfect product. Two dollars from every sale goes to St. Jude Children's Research Hospital, the lipstick is 100% botanical and petrol-free, and all the packaging is biodegradable. More than that, you can plant the carton each lipstick comes in, and it'll sprout. Not sure what; I'm still waiting. This would all be so much worthy nonsense if not for the fact that the colors go on satiny-smooth and have staying power, and if you're the kind of person who cares about these things, five of the shades were designed by celebrities; turns out I have the same taste in lipstick as Maria Menounos, whoever the hell that is. I've never been so happy to slap my credit card on a counter as I was when I bought my Maria, which I promptly renamed for the boy, the boy, the boy. This lipstick, I'm wearing. In more ways than one, I'm planting the seeds of something new.