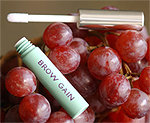 ShareThis
This week, BurdaStyle goes L.A. native.
BEAUTY
BROW
BEATEN
This is a big season for the eyebrow.
Scratch that, I'm starting over. Sometimes writing about beauty really makes me feel like an idiot. A big season for the eyebrow? Seriously?
Anyway. A few years ago I was a full-time beauty idiot, and in the course of sort of, well, luxuriating professionally,
I met Damone Roberts. He and his eponymous Beverly Hills brow-grooming salon had earned a cult following, so he was launching a new line of brow-related products, and duty bade me to his chair for a good pluck. (Only pluck, never wax, I'm a missionary about this.) He regaled me with some story about the guy in New York who typically did my brows – there was some sort of Page Six drama about who was the true "brow king," or "lord of the brows," I honestly don't remember, it all seemed really irrelevant and as nice as Damone was, my visit to him helped me see that I'd had enough of beauty writing for a while. He talked about his trademark on "the browmaster" or whatever, and I thought about joining the Peace Corps. Maybe that would make up for all the free haircuts and massages.
I didn't join the Peace Corps, but I have been back to see Damone. See, what I remember, always, about that first visit to his salon is that my brows were, like, perfect. Arched works of art. And the thing that makes a sentence like "this is a big season for the eyebrow" so absolutely stupid, however abstractly accurate, is that it's always a big season for eyebrows: Along with healthy skin and a good haircut, properly groomed brows are fundamental to making the most of the beauty you've got. And the old-school glamour girl looks coming down the runway for fall made a big deal of the brow, trimming back the bush of the last couple seasons and highlighting that classic '40s arch. The temptation is to over-pluck, or god forbid, wax, and that's where Damone Roberts comes back into this meandering story. Along with his very good tweezers and Brow Gel, Damone makes Brow Gain, which is sort of like Rogaine for eyebrows. Here's hoping you never find yourself in need of it, and now that I'm thinking about all this, I am pretty sure it was "The Brow King." What can I say? He's the king for a reason.