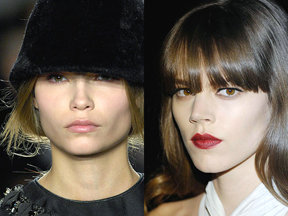 ShareThis
This week, BurdaStyle gets serious.
BEAUTY EITHER/OR
Whereas the clothes for Fall were a polyglot bunch, runway beauty you could whittle down to two major themes: Maximal and minimal. In keeping with the show's homage to the 1940s, Pat McGrath at Gucci gave the models a polished look: Porcelain face, immaculate brow, a wide almond eye with a feline stroke of liner across the top and, most prominent, a scarlet lip. The red lip was a highlight at Proenza, too?though makeup artist Gucci Westman's interpretation was a glossy maraschino cherry, created for the show and available for a limited time through Lancome. Westman alternated the red lipstick with another that matched the models' nearly naked eyes and face, and Tom Pecheux at Derek Lam echoed the nude theme, adding only a bit more smoke along the lids.
Pecheux's barely-there face got extra impact from Orlando Pita's headbanded up-dos, and in fact, pulled-back hair was all over New York, from the severe buns at Costello Tagliapietra to the jaunty, loose ponytails at Karen Walker. Wherever hair was down, it was down in a time-intensive way. Zac Posen offered board-straight locks, the better to accentuate many of the models' razor-cut bangs (stil in.) Versace likewise went for straight hair, albeit with some sexy, mid '60s rollers & hairspray body to it; back at Gucci, meanwhile, the hair was downright decadent, works of curling iron art that only pull off at the salon. Stick with the ponytail: Frankly, the big hair story for next season is hat head.
A few recommended products:
1. The Red Lip: Vincent Longo's Velvet Riche Rejuvenating Lipstick is creamy and conditioning; Dakota Red is an almost universally flattering dark red, while punchier Fore-Plush is au courant. Finish either with Benefit's She-Laq, which seals lipstick in place and stops bleeding.
2. The Nude Lip: Nars's Belle de Jour lipstick has the power to erase your lips utterly; bring them back by blending with the brand's Borneo liner.
3. Hair: Up or down, one thing all this season's hair had going on was shine. Bumble and bumble Shine spray works wonders post-styling; for seriously frazzled, frizzed-out hair, invest in Fekkai's Overnight Hair Repair.