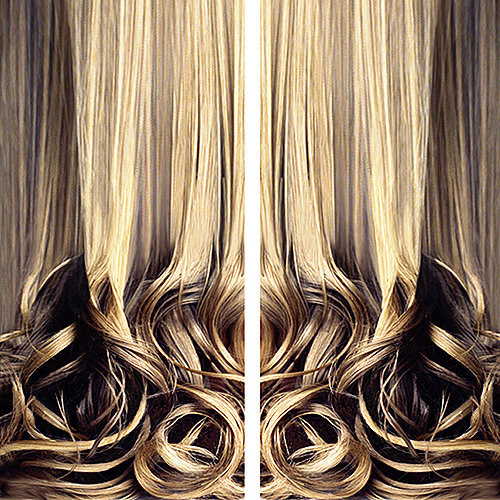 ShareThis
This week BurdaStyle gets Stockholm syndrome.
NORTHERN
LIGHTS
"Scandinavian" and "blond" are nearly inseparable ideas in the pop culture. I've met swarthy Swedes, and unprepossessing Stockholm exiles with mops of unruly brown hair, but think Sweden and still I conjure a mental nation of flaxen-haired, alabaster-skinned, enviably cheekboned natives, all of them ruddy with good health after a day on the slopes, all of them preparing to retire to the sauna and then onto the lodge for a smorgasbord meal. It's all very Swedish bikini team and fun-loving stewardess, if you know what I mean, and I can't help envying my imagined Swedes, even if I know the picture in my head is mostly pap culled from beer commercials. Such are the rewards of growing up American.
I was a tow-headed blond until I was four years old. Even when I was that young, I knew it was a bad deal to have my hair go dark on me; one of my earliest memories is of looking at baby pictures of myself and asking my grandmother, imploringly, when my hair was going to go back to its "natural color." Eventually, it did. First, when we moved to Florida and I took up residence at the pool: Swim team chlorine plus cancerous sunshine bleached my locks back to its toddler taupe, so much so that my friend Jon made a habit of telling blond jokes at my expense. Then I went to college, and my hair went back to brown. Not only that: The caramel color I was expecting to grow back had been replaced by something much closer in tone to dark chocolate; all those years of chlorine bleaching had disguised the ongoing darkening of my hair as I aged.
Now I'm back to my "natural" color again, meaning, of course, that I've dyed my hair blond. Serious, double-process blond, not highlights or anything half-hearted like that. I dyed it last summer, entrusting my locks to the eminent Victoria at Bumble and bumble, who continues to keep them approximately the color of butter, plus some lowlights for dimension. It's been almost a year, enough time, I think, to report conclusively that no, blondes do not have more fun. They don't have less fun, but going on my bottle-blond experience, they do spend a lot more time watching their roots grow in and scheduling intensive conditioning treatments and buying anti-frizz serum and trying to stay tan or applying tinted moisturizer in order not to look all washed out and/or comatose. It's not exactly a day at the chalet, in other words, and as the deadline of my next Bumble appointment looms, I'm wondering whether it's time to admit to being a natural brunette. There's less romance just in the phrase. Naturally cocoa-headed? Eugh. Forget I even wrote that. Whatever color my hair is these days, natural's not in it.
The other option is to up the ante on my blond experiment and go platinum. There's something appealing about that idea, a dye-job I imagine would happen in conjunction with a major chop to the locks and the purchase of some bright red lipstick and smudgy blue-black eyeliner. Thinking about Sweden this week, it's occurred to me that my mistake may have been to make myself a California blond, when in fact I needed to gird my nerve for a true Nordic look. There is something undeniably, unremittingly glam about platinum hair; it's the color that always makes people look twice. Maybe platinum is what it takes to kick the blond effect into action, and it'll be all saunas and smorgasbords for me salon visit on out. But probably not. One thing you learn growing up in America: Whatever the beer commercials may convince you, it's best not to dye under the influence.