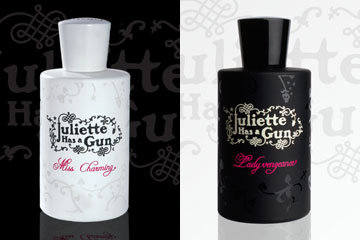 ShareThis
This week, BurdaStyle celebrates Parisian perversity.

BEAUTY

UN

POISON

VIOLENT

, C'EST CA L'AMOUR

The first perfume I ever purchased for myself was L'Air du Temps, by Nina Ricci. I was thirteen; I liked the winged, froufy bottle and the notes of musk and gardenia redolent of my grandparents. I bought it with Bat Mitzvah money. My mother, who hates perfume, smelled it once and tossed it out, along with the Jane's Addiction CD that had been my other indulgence at the mall that day.

I still hold the Jane's Addiction CD against her, but the L'Air du Temps, not so much. Like many old perfumes, it's a bit muchI smelled it again a while ago, and believe me when I say that it's not the kind of perfume you want with you in an elevator. The woman wearing it was in her 70s, and she had been liberal. I spent the rest of the afternoon fighting off a headache. I suppose an overdose of any perfume can do that to youmy mother would say sobut I think some of what repulsed me was an ideal of seduction I no longer accept. L'Air du Temps is a romantic scent; it reeks literally of flowers and figuratively of heart-shaped chocolates and satin sheets and pitching woo. The French invented romance basically an aestheticization of love way back when Eleanor of Acquitaine was briefly queen, but at least in those days the phenomenon carried with it a whiff of desperation. There was the noble possibility that your suitor might kill himself if he couldn't have you. And then Eleanor ran off to England and married Henry II and wound up in the Tower when she got too bitchy for him. Really, it's all so much more interesting and modern than our Valentine's Day, or anything in a winged bottle.

I bring up L'Air du Temps because my favorite new perfume is, in fact, a Ricci development. Nina's grandson Romano Ricci launched Juliette Has a Gun Parfums last December at Parisian uber-boutique Colette, and I'd love the line for the name and the kooky packaging alone. Belying both, neither of the debut fragrances is dark; quite the opposite. Lady Vengeance is Italian rose, vanilla and patchouli; the patchouli adds some spice but the top notes are the sweet ones. Lady Charming, meanwhile, is enough to give you a diabetic fit: Moroccan rose, lychee and strawberry combine for a scent that is, oddly, appealingly cloying. I don't know how else to defend my love of Lady Charming except to say that something about it smells ironic. Perfumes universally pedal barmy promises of glamour, allure, excitement and (yes) romance; Lady Charming is the first perfume I've ever encountered that's in on the joke. Out of fear of snark, and in deference to my mother and elevator passengers everywhere, I wear it sparingly.