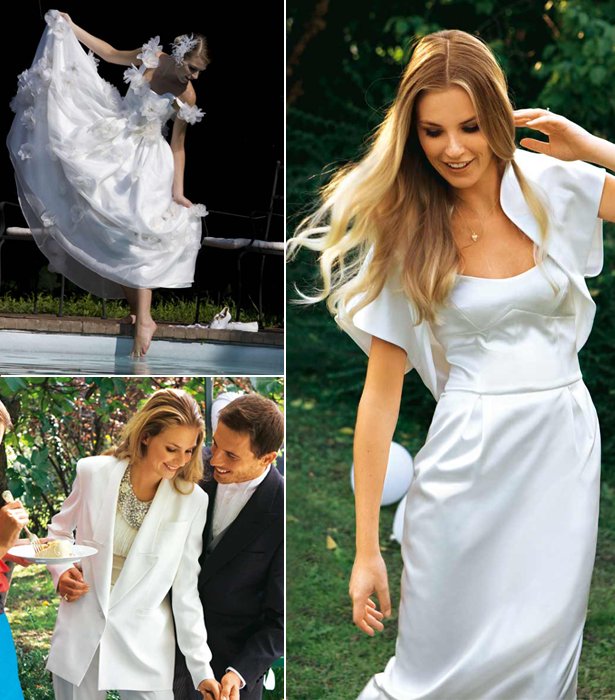 ShareThis
The season is approaching us. Wedding season that is! We are now releasing wedding patterns from the March 2010 issue of burda style magazine. These lovely gowns are elegant, pure, and flatter the women's body on her special day.
This A-Line Gown is exclusively in petite sizes! Sleeves with handmade organza flowers adorn the A-line flared gown that emphasizes a petite figure beautifully. The empire seam adds an extra girly touch.
Waited long enough to tie the knot, now it's off to the party! This 60s' style Dress has haute couture styling and is perfect to celebrate the special occasion in. The small fabric circles adorning the dress give this dress movement and is a fun detail.
This Lace Gown fits narrow above the knee and then flares out beautifully because of the center back godet. The lace looks lovely sheer on the sleeves, and overlays crepe satin for the dress body.
Why not tie the knot in a sleek pantsuit? This hip-length Blazer is perfect just for that! It has classic details and looks great made in a crisp white satin.
This Flower Gown is like a fairy tale because of its romantic style. A generous amount of fabric flowers are sewn on by hand. The corset bodice top with boning shapes waist and neckline.
This One Shoulder Gown is sure to wow on your special day. The asymmetrical chiffon bodice is draped around the top of crepe de chine and a chiffon rose and scarf decorate the waistline.
Shoulder-free corset "Gown" with wide tulle skirt and big bow. You can wear with or without the overskirt for different looks. Shoulders getting cold? Why not wear this little elegant Bolero over top. It is easily removed for when the party really gets started!
This is the perfect Dress to wear to a special occasion! It is form-fitting with corset styling and really shows off those shoulders. Make in a print for a fun spring dress.
Happy Sewing!