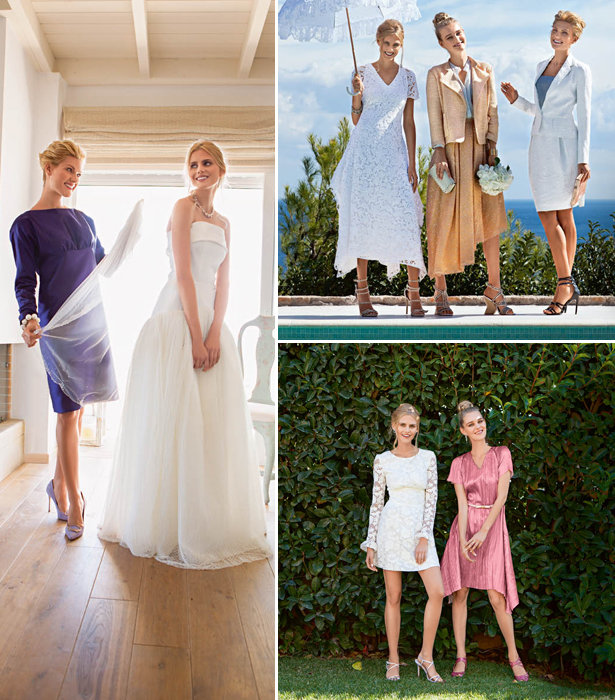 ShareThis
You can make your special day even more special with a unique homemade wedding dress! This collection is filled with wonderful wedding dress sewing patterns ranging from ball gown, dropped waist to even mermaid and cropped silhouette. Not only does this collection offer you dresses for the bride, it is also consists of lovely bridesmaid dresses, mother of the bride apparel, and even outfits suitable for the guests. This collection is from the 03/2015 issue of BurdaStyle magazine. Check out all these styles with pairings from Mood fabrics!

Theory Stretch Purple Reign Silk Georgette; Blackberry Silk Crepe Back Satin; Lilac Abstract Crepe de Chine
This dress has a nice and relaxed fit, so it will take you through the day feeling comfortable and eager to help out the bride! The kimono long sleeves and gathered front and back yoke really give this dress a unique touch.

Blush Silk Duchesse Satin; Bubble Gum Solid Silk Faille; Sugar Coral Stretch Cotton Sateen
We love this dress's flattering berry tone and playful pleats. The cut of the dress works through its simplicity: V-neck, short raglan sleeves and the side seams with cut corners to create a cascade effect.

Boucle; Off-White/Metallic Gold Striped Boucle; Oscar de la Renta Dusted Pastel Orange Double Face
This jacket is worn open with no center front closure. It makes a great jacket to throw on at night when it cools down. We also love the wide open lapels what would look fantastic sewn in a contrasting fabric.

Marc Jacobs Pristine White Diagonal Striped Polyester Brocade; Italian Ivory Stretch Polyester-Viscose Suiting; Donna Karan Cream Crinkled Silk-Wool Twill
This blazer looks so sharp sewn in bright white brocade. The pockets are deep and the silhouette emphasizes the waist nicely. It looks great paired with this skirt with pleats along the front waistline.

Mandarin Silk Crinkled Chiffon; Sherbet Cotton Dotted Swiss; Bossa Nova Acetate Lining
This midi skirt is pleated with an interesting asymmetric hemline. Sewn in chiffon this skirt makes an amazing special occasion skirt since it is so flowy.

Bright Pink Solid Boucle Oscar de la Renta Hot Pink Double Cloth Stretch Italian Wool; Rebecca Taylor Muted Grape and Pink Dotted Wool Twill
This fitted single-breasted blazer
with flap pockets is a classic in any modern women's wardrobe. We are in love with that bright pink fabric for this jacket, as it really brings this blazer to the next level. The flared shape of these matching pants give wearer's leg a beautiful shape.

Silver Silk Knit Jersey; Metallic Silver Stretch Polyester Jersey; Ivory Solid Jersey
This blouse looks really nice and festive sewn in lamé, and it's easy to sew. The pleats on the left front blouse give this top a nice asymmetry look, and the loose silhouette is awesome to wear.
Decorative ribbons really bring this dress to the next level, they are used in the front skirt and tied there. Overall, the dress highlights are the deep bustier neckline and tight-fitting shape that extenuates the female figure.
This tiered wedding dress is super refined in embroidered organza. The panel along the waist accentuates the silhouette and the long skirt of crepe chiffon is beautifully dramatic.
Summery and almost "hippie" like is this lace dress with wide silhouette and raglan sleeves. Bust darts also give the shell of this dress a little shape.
With a flattering neckline and puffed sleeves, this dress does not disappoint. Three superimposed ruffles makes this gown floor length and a band at the waist ties nicely in the back to make a bow.
This floor-length dress has a bustier Duchesse bodice and a multi-layered tulle skirt. The dropped waistline of the bodice is so elegant and on-trend right now, and we love the strapless neckline.

First Row: Tulle & Crinoline; Dotted Beige Tulle; Cream Silk Duchesse Satin.

Second Row: Whisper White Silk Duchesse Satin; Metallic Platinum Floral Scallop-Edged Lace; White Scallop-Edged Re-Embroidered Lace.
What really makes wedding dresses truly unique and beautiful are the trims!

9 inch White Scallop-Edged Floral Lace Trim; Off-White Russian Veil Lace; 1.5 inch White Floral Lace
Want this full pattern bundle with all the patterns included? Download all the styles here in one download and at a discount.
Happy Sewing!