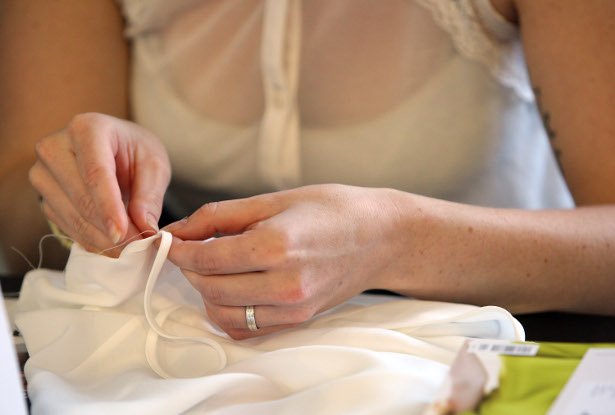 ShareThis
Do you do everything right, follow all the instructions carefully, but still feel your finished garments have a touch of the made-at-home look? If so, you are like most sewers and this webinar is for you.
In this live web seminar, sewing author, teacher, and seamstress Barbara Emodi will teach you what the pattern guide sheets don't tell you. Learn the easy tricks of the trade that will elevate your creations from "made it myself" to "I can't believe you made that!"
Barbara blogs at Sewing on the Edge and we're so excited to have her be a part of our web seminars! She was sweet enough to answer some questions we had for her about her webinar and her blog:
When did you start sewing your own clothes? Do you remember what your first project was?
I have made all of my clothes since I was 12. I am tall and having my blouses pull out of my skirts at school was making me crazy. I still add 2" to every top and 2" to every bottom and now have been making that same alteration my whole life. Also I think I was making my mother crazy with all my DIY projects around the house, so the summer I was 12 she sent me off to a Singer Sewing School for adults. I made what every other woman there made – was a fully lined wool suit. Can't remember if I ever had an occasion to wear it but I did learn to sew.
I love that you share your sewing and your life with the world on your blog. What inspired you to start blogging?
I think sewing is great, just great. I wanted to talk my projects over with people but the fact is no one I worked with and few people I know, really sew as much as I do. Blogging to me was a late night conversation into the void- I wrote what I was thinking or feeling about sewing and what I was making or hoped to make and then when I got up in the morning there they were – comments – I had connected. I found out there were people out there who knew exactly what I meant and cared about – blogging to me is a reminder that it being human, and having interests in common, is really all that matters – nothing keeps us apart.
What do you think distinguishes the look of a garment that is made at home versus a professionally-made garment?
There is nothing wrong with a garment being made at home, far from it. But look, you don't want it to not meet your own expectations. Once I retrieved a coat I made as a teenager from a coat check "Whose is this homemade coat?" the coat check person said. I mean you don't want that do you? I have put a lot of thought into making sure nothing I made was ever described that way. What are the qualities that show in a professional garment? Probably that things lie right, that the collars don't flip or twist, that the edges are flat, that it looks smooth and that there is no evidence that it was a struggle to construct. I think most sewers know exactly what I mean.
What will home sewers get out of your webinar?
I expect different sewers will get different things, it might depend on the sewer's previous experience, but I think every sewer would, like I would, have more than a few moments where they say "of course, why didn't I think of that?" Primarily I want to fill in the gaps between what the pattern instructions tell you and the things that need to be done so what you make looks the way you really hope it will. I will talk about some lesser known tricks, things pros assume everyone knows, but everyone who essentially has learned to sew by reading instructions, doesn't know. I am going to talk a lot about interfacing and pressing and turn of cloth and things I feel really make a difference. The things you do and make you stand back and think to yourself "look at that, I'm good."
Click here to register for Barbara's live web seminar on Thursday, September 19th at 11am EST (4pm GMT). Can't attend? No problem, each registrant receives a recording of the event.

What You'll Learn:

How to understand "turn-of-cloth" and the impact it can have on results
How to use different kinds of interfacing in different garment areas and why this is a good idea
How to use your scissors like a pro and why trimming, notching and clipping are the right techniques for very different situations
How to sew long and difficult seams in stages for better results
How to use pressing tools to polish your garment
How to top-stitch and edge-stitch and why they are not the same thing
How to do three different methods for hand stitched hems and when to use them

Have a question about a specific technique? There will be a Q&A session at the end of the webinar where you can ask Barbara any questions you have, and no question goes unanswered!

Can't attend the live webinar? Everyone who registers will receive a recording of the event, any downloads or resources referenced during the webinar, and have the ability to ask any follow-up questions.

Click here to register for the Give Your Garment a Professional Finish webinar to learn how give your garments a professionally-made look.

Hope to see you all there!