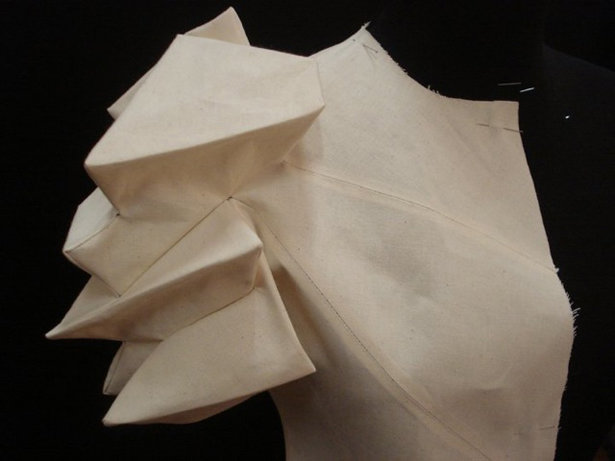 ShareThis
Is your design creativity dictated by darts? Do most of your garments revolve around the same style lines, with waist and shoulder darts shaping every piece you design? With this technique, you will be able to transform a basic bodice into a work of art!
We're bringing back one of our most popular web seminars as a refresher before we present a more advanced transformational reconstruction web seminar in February. Missed the first seminar? Don't miss out! Click here to register for Thursday's webinar
Darts can be little dictators, threatening to limit the way you can creatively manipulate a pattern they can be rotated, combined and divided, but they never disappear. In this live webinar, fashion architect Nicole Marét will show you a new way to create stunningly unique style lines through a process called Transformational Reconstruction, developed by Japanese designer and instructor Shingo Sato. This technique allows new style lines to be created in 3D on a dress form, by beginning with a basic garment that has already been sewn using typical sloper darts. For more info, check out the amazing 3D constructions in this video:
Nicole will guide you through the basics of this innovative technique, from creating the new style lines to crafting the pattern to sewing the finished garment. You will learn how to transform a basic bodice with straight waist, bust and shoulder darts into a geometric work of art. This is an incredible skill to add to your sewing repertoire, and will instantly boost your design credibility!
Register here for the live web seminar on Thursday, January 23rd at 11am EST (4pm GMT). Can't attend? No problem, each registrant receives a recording of the event.
What You'll Learn:


Create unique style lines in 3d on a basic bodice muslin


Deconstruct these style lines into new pattern pieces.


Reconstruct resulting pattern pieces into a new, completely different bodice
Have a question about a specific technique? There will be a Q&A session at the end of the web seminar where you can ask Nicole any questions you have, and no question goes unanswered!
Can't attend the live web seminar? Everyone who registers will receive a recording of the event, any downloads or resources referenced during the web seminar, and have the ability to ask any follow-up questions.
Click here to register for the Transformational Reconstruction web seminar to learn this amazing Japanese technique.
Hope to see you all there!