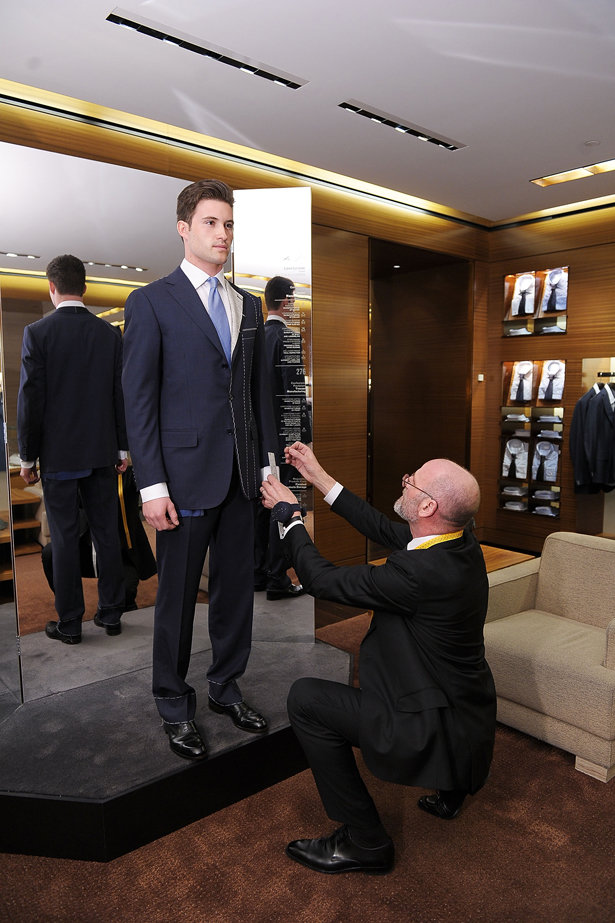 ShareThis
There's no sharper look than a tailored suit! Learn how to make the most common alterations to a men's suit. This web seminar is great if you'd like to starting making money by doing men's tailoring.
Most often sewing information and patterns neglect menswear, but menswear, particularly suit alterations is a necessary component for any tailor's repertoire! This web seminar will teach you how to make the most common alterations to a men's suit.  Save money by fitting and sewing men's alterations on your own!
Click here to register for Thursday, January 16th's live web seminar, Men's Tailoring – Suit Alterations, at 11am EST
In addition to lots of time-saving tips, this class will teach you how to properly fit and mark your alterations, as well as different styles and methods of doing so. You'll also learn step by step instructions for hemming trousers (blind or cuff hem), adjusting trouser waists (in or out), and altering sleeve length (longer or shorter). Any garment looks better when fit to the body, but proper alterations are even more important for men's suits!
This web seminar will be presented by sewing aficionado Jessica Kelly, who blogs at Running with Scissors.
What You'll Learn:



How to fit and mark necessary alterations
How to sew alterations for trousers (hem and waist) as well as coat sleeve length
Save time with lots of valuable tips for any alteration
Who Should Attend:


Men sewers and any sewer who sews for men
Anyone looking to brush up on their tailoring/alterations skills
Intermediate to advanced sewers
Sewers who want to learn suit tailoring skills for their business
Have a question about a specific technique? There will be a Q&A session at the end of the web seminar where you can ask Jessica any questions you have, and no question goes unanswered!
Can't attend the live web seminar? Everyone who registers will receive a recording of the event in next Monday's thank-you email, along any downloads or resources referenced during the web seminar, and will have the ability to ask any follow-up questions via email.
Register Here for Thursday, January 16th's live web seminar at 11:00am EST (4:00pm GMT).
Hope to see you all there!